HGTV's all-star renovation competition, Rock the Block Season 3 Episode 4 is here. Four identical houses, $225,000 budget, one goal, total appraised value. If you want a recap of what this show is all about, you can know it all through Rock the Block Season 3, Episode 1 here.
Rock the Block Season 3 Episode 4
This season three, team Rock the Block is at Summerville, which is just outside of Charleston, South Carolina. Ty Pennington is hosting once again. The participants and teams of Rock the Block Season 3 include Mike Jackson and Egypt Sherrod, followed by Dave and Jenny Marrs, Keith Bynum and Evan Thomas, and lastly Lyndsay Lamb and Leslie Davis. Let's give you a little recap before we talk about Rock the Block Season 3 Episode 4.
Recap and Spoilers
The first episode like always was all about the Kitchen and Dining room space. Spoilers alert!!! Dave and Jenny won the Kitchen Showdown. In the second episode, Jasmine Roth, the winner of Rock the Block Season 1 crowned Egypt and Mike as the winners of the Living room showdown. Week three, main suites, which include the bedroom and a bath, were won by team Lyndsay and Leslie. Former members of the Rock the Block family, Alison Victoria, and Page Turner were the judges in episode three.
Nate and Jeremiah Are Back
In Rock the Block Season 3 Episode 4, our favorites, Nate Berkus and Jeremiah Brent had the privilege to be the judges. In case you forgot, last season, Nate and Jeremiah won two back-to-back episodes afterward at this stage. The dynamic design duo won both the episodes of Rock the Basements and Rock the Exteriors from Season II.
FROG and the Loft
This week, the teams will have to Rock the F.R.O.G (Finished Room Over Garage) in order to impress Nate and Jeremiah. It's a very unique feature in these types of homes, also the teams need to renovate the second-floor loft in the main house, which is the first thing you see when you walk upstairs. So it's all about enhancing these extra spaces which could be challenging because they are such a blank slate.
View this post on Instagram
Coastal and Historic
Starting off with Mike and Egypt's space, a home office, but it can be the additional en suite for mother-law, guests, etc. It has this kitchen with induction which doesn't require a hood. It has the dual functionality of office turning into banquette dining, and on the other side, there's a Murphy bed with hydraulics. Cute hardware and tiles, with deep storage, and the fact it is so light-filled impressed the judges. But lack of window treatment opposite to the bed felt missing if someone is sleeping as it's facing direct Sunlight. The loft was designed specifically for families that could fit all the kids. Overall, FROG design, versatility, and homework stations were on point.
| | |
| --- | --- |
| Pros | Cons |
| FROG Versatility  | No Window Treatment |
| Maximized Space | |
| Bathroom Design | |
| FROG Design | |
| Homework Stations | |
Deja Vu in Rock the Block Season 3 Episode 4
Tables have turned this time like a glitch in the matrix. Last season it was Mike Jackson and Egypt Sherrod who were judges in one of the episodes where Nate and Jeremiah were in as contestants but now the roles are reversed. You can read all about that specific episode in the link below.
Classic and Eclectic
Lyndsay and Leslie's space was up next. It is a potential rental to add value. Their layout with a little cafe table with the chairs, a mix of the vintage stuff thrown in, made it completely universal. The kitchen felt charming and large. Moving on to the bathroom, it has tons of natural light, a closet, the color, shower, and beautiful tiles. The fun space was their loft, as it is the kids floor. Kids can evolve with a pegboard, starting off with crafts but as they grow it's their workstation for school. The first impression was jaw-dropping for Nate due to their creativity! But later, in Rock the Block Season 3 Episode 4 judges concluded it to be too specific for potential buyers.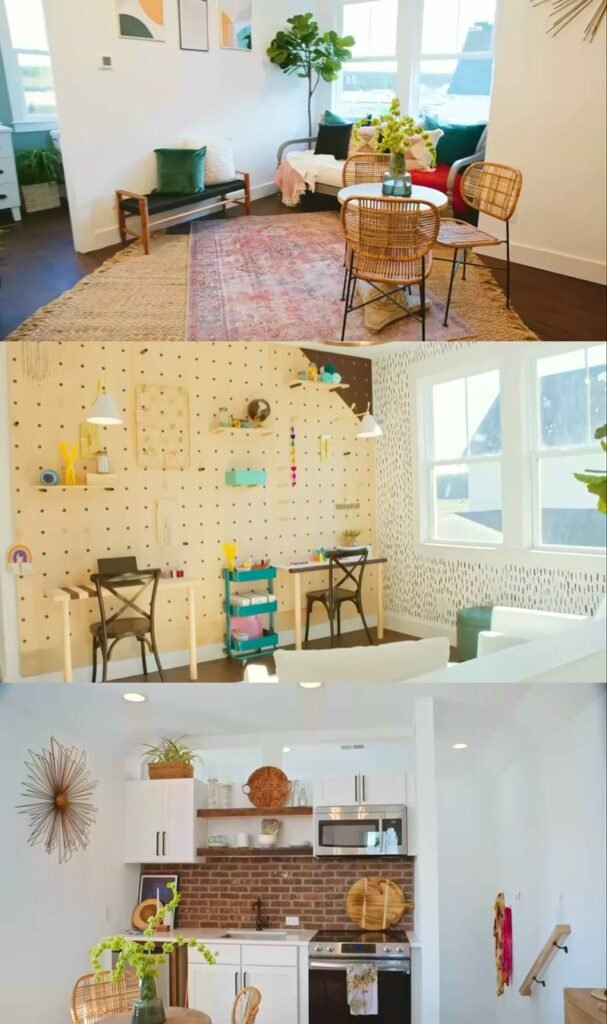 | | |
| --- | --- |
| Pros | Cons |
| FROG Layout | Loft too Specific |
| FROG Design | |
| Bathroom Design | |
| Kitchen | |
Artistic and Bold
Moving on to Evan and Keith's detached FROG space. They wanted to treat it as a separate apartment or short-term rental. The big shower, beautiful shower tiles, were hard to miss. The vintage refrigerator, green tile on the backsplash, handsome glazed farm sink, and also a full-sized range and oven made it a complete kitchen. Nate and Jeremiah insisted on the importance of design playing the part of adding value to the space. Their loft is envisioned as the family room. It has this amazing built-in entertainment console for the kids, but if the potential buyer doesn't feel like the mid-century vibe it could have a non-appealing effect.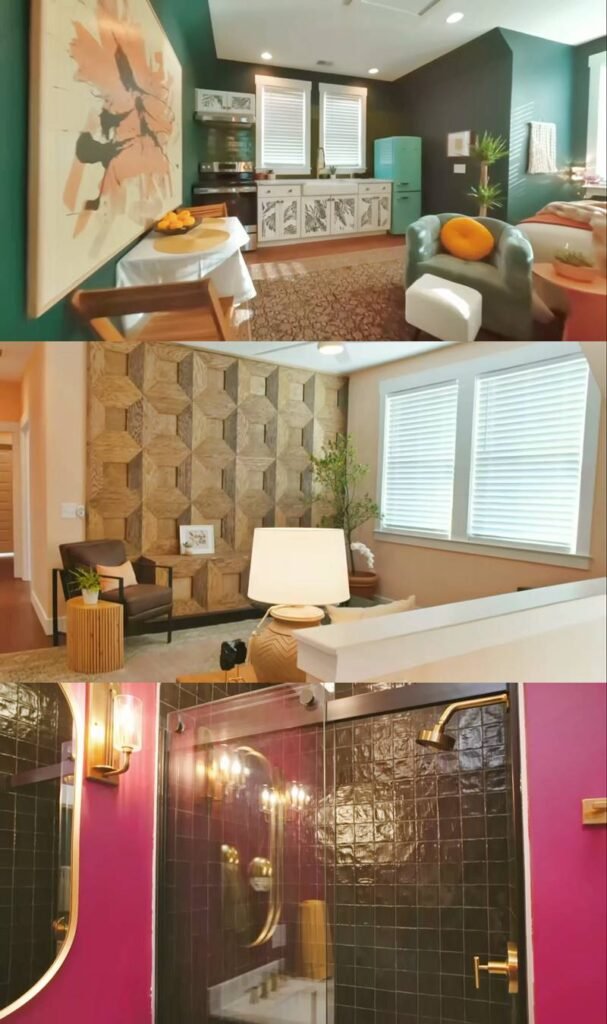 | | |
| --- | --- |
| Pros | Cons |
| Shower Tile | Built-In too Specific |
| Fridge | |
| Backsplash Tile | |
| Full Kitchen | |
Vintage and Modern
It's time to peak inside Dave and Jenny's FROG space. They did not want to forget about the in-laws of the potential buyer family of this house. They designed this creative trundle bed for guests, but when are gone, you can change it into office space. FROG design and historic drop front secretary desk were elegant. The bathroom is big, and it had this gorgeous modern mixed Moroccan glazed tile which made it not only look good but functional as well. Their loft space is designed for Laundry. The tile, huge sink, countertops, simple millwork was eye-catchy. But Black doorknob, brushed brass knobs and the chrome faucet can throw the potential buyers off due to mismatched hardware.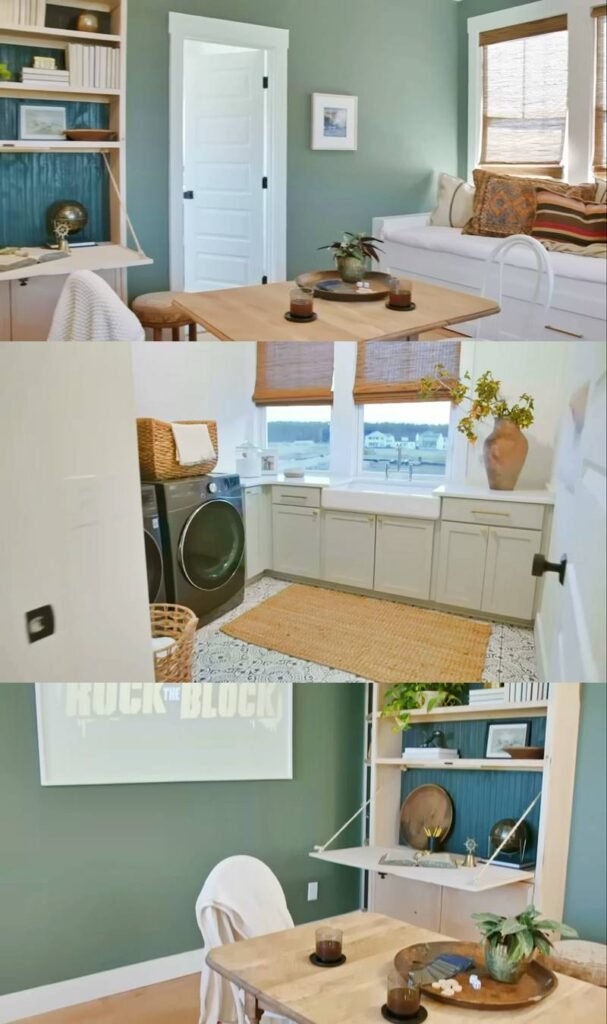 | | |
| --- | --- |
| Pros | Cons |
| Trundle Bed | Non-matching Hardware |
| Desk | |
| FROG Design | |
| Bathroom Design | |
| Laundry Floor Tile | |
Who Won Rock the Block Episode 4
The rooms were all so amazing, but also because there's such a variety, it's really hard to conclude who is a clear winner of Rock the Block Season 3 Episode 4. Nate and Jeremiah praised all team members that they all are incredibly professional and hold immaculate reputations. But only one team can win, so the winner of this week's renovation challenge is Dave and Jenny. They will get an extra 4000$ to use in their next week's challenge.
Feel free to leave your thoughts in the comments below and let us know which among these spaces was your favorite one?