It's time to rock the bedrooms in Rock the Block Season 2 Episode 3. For this week's task, the teams are going to renovate the main bedroom and bathroom.
Rock the Block Season 2 Episode 3
In this episode, the teams had to renovate the main bedroom and bath 'Rock the Main Bedrooms', but that wasn't it. Halfway through the episode, the teams get a surprise challenge. They found out that they had to take on a color challenge. Every designer knows that being able to adapt to unexpected surprises is an essential skill, right? Each team had to choose a color without knowing which color they're going to choose and then incorporate it into their spaces. In simple words, pick a paint color and use it in some creative way to accent their spaces.
The Colour Challenge
Mango, Caramel Red, Classic Blue, Olive Green, were assigned to David and Tiffany, Nate and Jeremiah, Brain and Mika, and Mike and Alison, respectively. Not all the teams were excited with their colors; especially Nate and Jeremiah but they have no choice but to use them. To add further tension to the challenge, the judging process was also going to be a blind one. This week's judges 'Flipping Virgins' and 'Property Virgins' host Egypt Sherrod and her husband Mike Jackson would judge each space without knowing which team designed it.
Rock The Kitchen & Living Room
In the first week of Rock the Block Season 2 Episode 1, the team tackled the heart of the home, the kitchen. Alison Victoria who was also part of the first season won the first-week challenge with her new partner Mike. In the second week of Rock the Block Season 2 Episode 2, the teams had to finish the rest of the first floor by renovating the entryway, and the living room. David and Tiffany dominated with their surprise mother-in-law in-suite and colorful insights to win the second week's challenge.
View this post on Instagram
Brain and Mika's Bedroom
So this week, Brian and Mika Kleinschmidt's main suite budget was $29,000 and they were assigned 'Classic Blue' for the color challenge shade.
The Kleinschmidt's had a very clear plan going into their challenge. They wanted their bedrooms to work on their design strengths and more importantly, utility. The judges, Egypt and her husband Mike were quick to notice. Brian and Mika had added additional closet space and did something that no other team did, created an attached laundry room which seemed to have won the judges over in Rock the Block Season 2 Episode 3.
Even their large bathroom scored them bonus points. For the color challenge, the couple did this funky blue artwork in the laundry room, which had a quirky hanger print on it. Judges simply loved it.
Nate and Jeremiah's Main Suite
The couple, Nate Berkus and Jeremiah Brent main suite's budget was $30,000 and they had chosen 'Caramel Red' for the color challenge shade.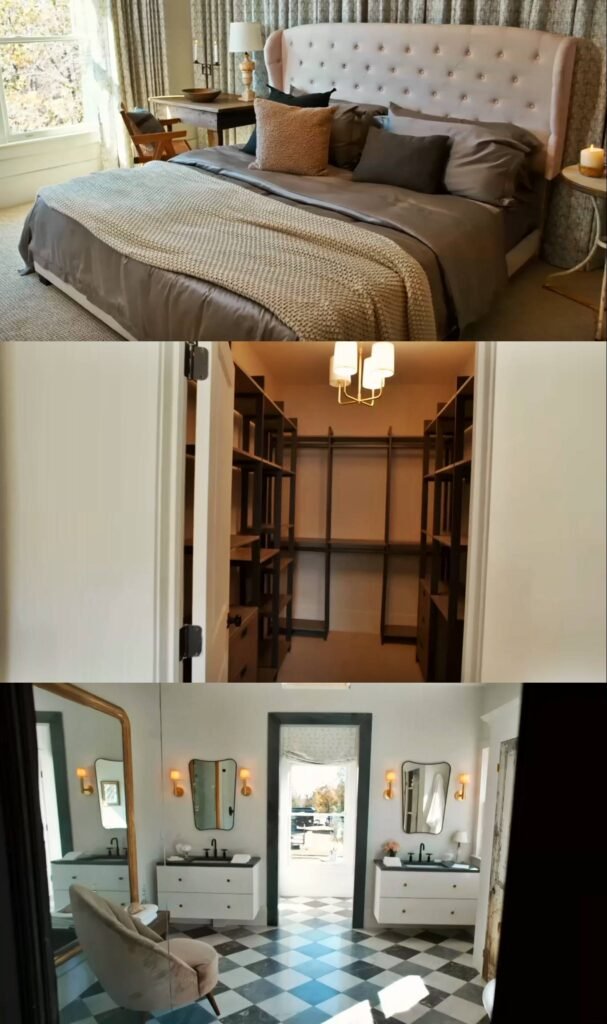 Nate and Jeremiah's decision to go big with their bathroom was a seller. One of the judges noted that the draped wall in the bedroom somehow shrunk the place in size. But what the judges didn't notice was, they used the Caramel Red from their color challenge behind the drape. This was done intentionally by the designers, as they wanted to put it somewhere where you can't see it as it had nothing to do with their personal style. However, she and her husband Jackson appreciated the stunning use of reclaimed wood. They also liked the idea of additional vanity space as it seems essential for any couple.
David and Tiffany's Yellow Shade
David Bromstad and Tiffany Brooks's main suite budget was $34,000 and they choose 'Mango' for color challenge shade.
Egypt Sherrod was instantly blown over by the size of the bedroom and not to forget the bright colors. Bromstad's risk to go with black tiles in the bathroom was definitely dope. Although she felt that the design seemed rather high-end, which is going to be for a distinctive buyer. The reading nook was another win, along with Bromstad's quirky banana painting which was used for their color challenge.
Alison and Mike's Ombré Tiles
In Rock the Block Season 2 Episode 3, Victoria and her partner Mike Holmes design dream closets and an ombre-tiled bathroom. Alison Victoria and Mike Holmes's main suite budget was $36,000 and they had choosen 'Olive Green' for color challenge shade.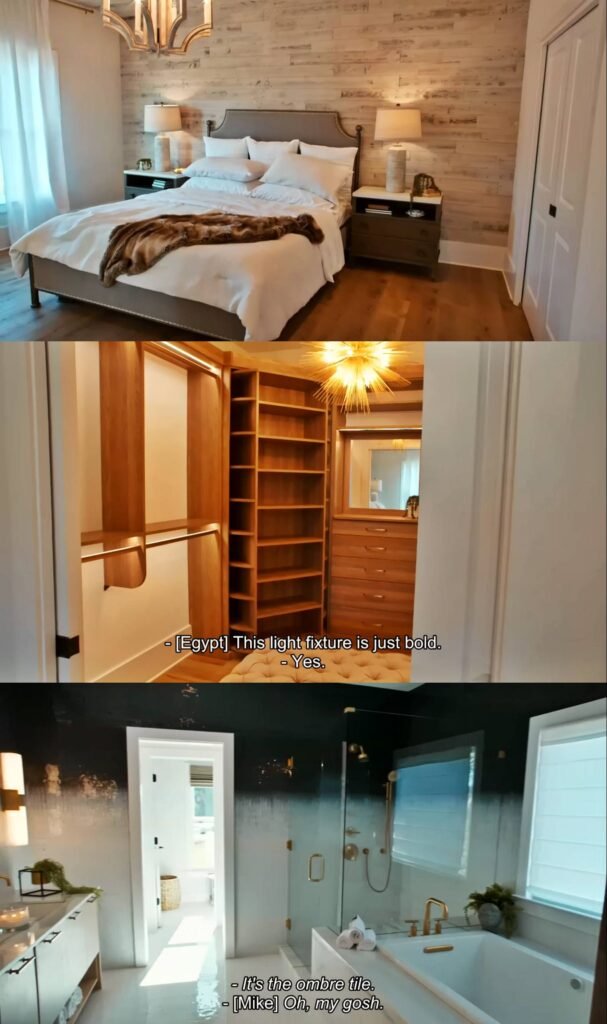 Alison and Mike wanted to create a stunning bathroom with gorgeous ombré tiles. Victoria's design element here was an instant eye-catcher with the judges. As their look completely sets the place apart and gave it a unique look. Another feature was his and hers closet, seeing that no other team had created a separate closet space. If there was a thing that brought down their space it had to be Victoria's stick figure painting. They made it for their color challenge.
Rock the Block Season 2 Episode 3 Winner
This week's win was a tough call. Each team had something that stood out instantly. However, the team that won the third week's bedroom and bathroom space challenge were Alison and Mike. They even won an additional $3,000, which was added to their next week's challenge. Brian and Mike felt kind of upset at their loss. They firmly believed that their connected laundry room was far more valuable as the goal here was to add value. Sherrod pointed out that it was, in fact, a close win and encouraged them to take more design risks. They also pointed out it was "the safest space" to which Brain replied "Safe sells."
Feedback
What are your thoughts about Brain and Mika's space? Do you agree they were playing safe? Leave your thoughts in the comments below and let us know which bedroom suite, bathroom space was your favorite?