Rock the Block Season 2 Episode 1 spoiler ahead. HGTV's all-star competition is back. A group of design and home renovation experts team up and transform 4000 sq ft property using 225,000$ in six weeks. It's no holds barred, and only one team will triumph.
Rock the Block Season 2 Episode 1
The episode starts with teams checking out the competition block while the host of the show TY Pennington makes an entrance and welcomes them to officially start the show.
Rock the Block
They're about to tackle the ultimate six-week renovation competition. A special neighborhood was created from the ground up. In six weeks, these teams of superstars will leave a beautiful neighbor behind them.
Rock the Block Season one was all about four individuals competing against one another but in Season two they doubled in size. Now they have a group of four superstar teams. Here is the list of competitors, and their opening statement of Rock the Block Season 2 Episode 1.
The Teams
Team 1: My Lottery Dream Home's David Bromstad and 50K Three Ways' Tiffany Brooks;
''' We're going to get another win. That's what we're used to. We're comfortable at winning. We're not used to losing, at all. ''David and Tiffany
Team 2: Nate Berkus and Jeremiah Brent from Nate and Jeremiah: Save My House;
''We've never done anything like this before. We've hosted, we've done our own show. Also, we've never been part of a competition.'' Nate and Jeremiah
Team 3: Brian and Mika Kleinschmidt from 100 Day Dream Home;
''I feel like we have an advantage because we know what the judges are looking for. We build houses in 100 days. That's what we do. So we're in it right now and feeling pretty confident. ''Brain and Mika
Team 4: Holmes + Holmes's Mike Holmes and Windy City Rehab's Alison Victoria;
''Look, I am the builder that builds around the world. Now I am teamed up with an incredible designer. Like, how could we actually fail this? I never thought I would come back. Swear. I never thought I would do this to myself again. Now that I am back, I am better. I know what not to do and I feel like that's what's going to make us the best team on the block. ''Mike and Alison
About the Block
There are four brand-new identical and big homes in the block. A single unit consists of four bedrooms, two and a half bath(second floor), a kitchen with dining space, a living room, two garages(first floor), and a basement with a strong 250,000$ market value on day one. The teams will have six weeks (One area per week) to add as much value as possible to their homes. They do have an access to the best contractors and tradespeople in the area.
Who Wins Rock the Block?
When the teams are done, a talented team of real estate and design experts will conduct a full-scale, in-depth appraisal of their newly rocked homes. The home with the highest appraisal value wins Rock the Block, Season 2.
At stake, ultimate bragging rights and, one team will have the right to name the block after them. However, the teams are not allowed to visit each other houses until the six weeks are over.
Six Weeks, Six Zones
Each week the teams will be assigned a different zone in the house to be transformed. Then an HGTV expert will come to take a tour of your home and evaluate the team's work and decide who designed the space, the best, and added the most potential value.
First Task, Rock the Kitchens
The first space the teams are assigned to work on is the heart of the home. The Kitchen and the Dining Room. In this week of Rock the Block Season 2 Episode 1, they'll be judged by a real estate power couple, HGTV's own Flip or Flop and Flipping 101 star, Tarek El Moussa and his fiancé, real estate expert, Heather Rae Young.
View this post on Instagram
Secret Mystery Boxes
As the team started to work on their ideas and things they need in order to achieve their desired results, the host of the show, TY Pennington announced a surprise design challenge. In front of the teams, there is a mystery box. The chefs have to incorporate four distinct food items from their mystery baskets into one cohesive dish. Meaning? the kitchen is their dish and these items are their ingredients. Now how they combine seemingly disparate design ingredients in their kitchen will be considered by Tarek and Heather(Judges). The items are:
Chicken Wire
Leather
Tiles
Mason Jars
After tirelessly working seven days and nights, dealing with a broken slab, having brick color conflicts, problems with the brass shelves, and endless issues, the teams finally made it to judgment day. The judges were ready to see their work. Their kitchen and dining space is ready to catch the judge's eyes.
Southern Craftsman
So the Judges of Rock the Block Season 2 Episode 1 went to Brian and Mika's home in the first place. The positives of their kitchen pointed by Heather were floating shelves. Tarek loved the Jumbo Slab but the one thing he thought he would have done with it was a waterfall edge. Or if they did a dropdown countertop maybe three-four inches thick. One another thing they did not like about Brain and Mika's space was their small dining area. However, two dishwashers, floor, spice rack, and their hidden pantry all were a big plus.
Modern Tudor
The next home the judges went to visit was of David and Tiffany. "This is a bold Kitchen" was the first remark of Tarek. Heather pointed and loved the backsplash, and the gold features they used. The favorite part of the kitchen was their stove. Open floorplan, Kitchen placement, a new window all were their positives. Let's talk about the cons now. "The green cabinets, for me it's a little tough for me" Tarek added.
French Countryside
As the Rock the Block Season 2 Episode 1 proceeds further, it was time to check out Alison and Mike's home. "Oh my God, that is gorgeous. Look at all that brick" the judges opening remarks about their space. Total custom cabinetry, which looks like a furniture piece. The white fridge with the gold is cool. Brick archway, inset spice rack, challenge items(chicken wire, mason jars, etc), floors all looked top-notch. But they didn't like their dining room design, as it failed to carry the look the kitchen space had.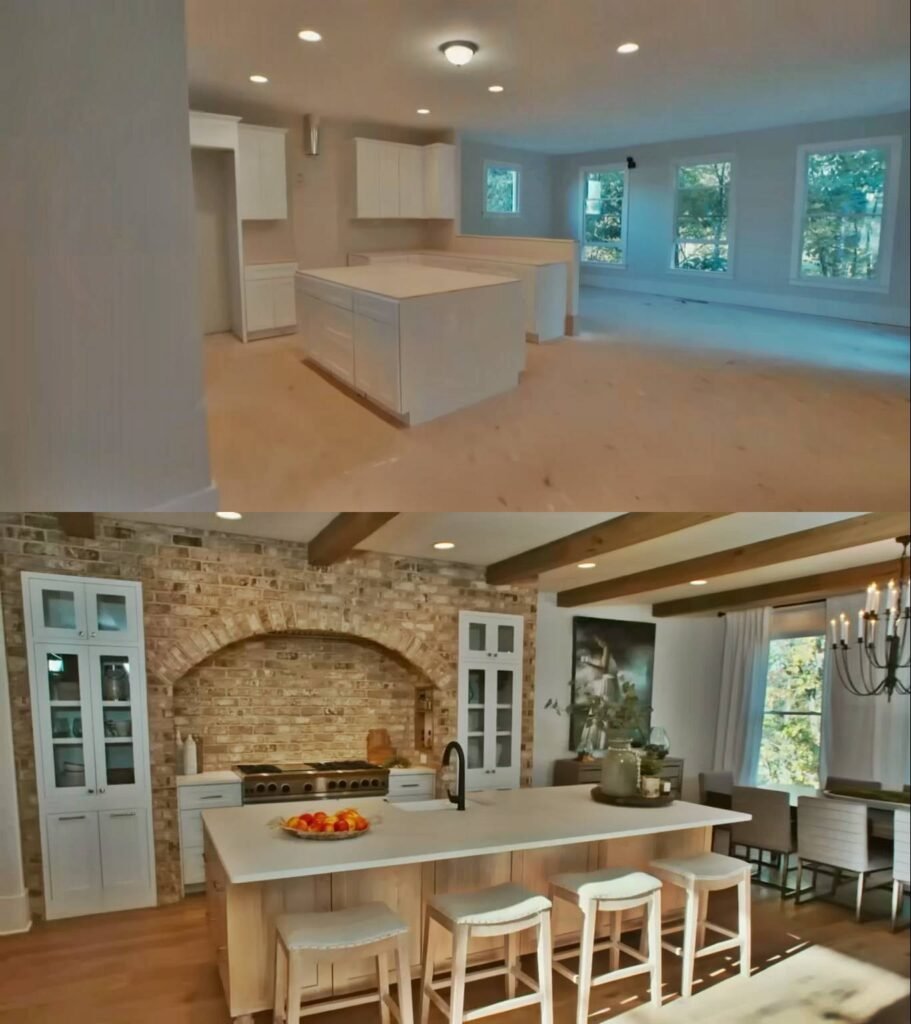 European Farmhouse
Lastly, they went on to Nate and Jeremiah's home. "Oh my, look at that detail" Tarek pointed out. Right off the bat, turning the corner of the countertop. The wood looks like a piece of furniture. The Island, countertop, a built-in fridge, leather insets looked outstanding. But it's a stage house, so imagine a family living here and imagine how full those shelves are going to be, and then what's the kitchen going to look like as there's really no cabinetry, Tarek pointed out.
Moving on, the length of the kitchen, custom banquette, seems really impressive for family gatherings. It really opens up space. Another thing the judges didn't like about their space was the coffee bar doors. Tarek mentioned it would have been more appealing if it opened and slid in. But the flooring and pendants used for the lighting make it not only beautiful but unique.
Rock the Block Season 2 Episode 1 Winner
So it's time to announce the winners. Heather and Tarek felt that this season's winners of Rock the Block, kitchen, and dining room challenge is team Alison and Mike. However, the winners confessed that their biggest worry was the team, Nate and Jeremiah. The judges announced that they felt team Alison and Mike were the most impressive with the mason jar bowl from the chopped challenge and they believe their kitchen added the most value to their home.
Leave your thoughts in the comments below and let us know who do you think added the most value to their home?