Finally, it's time for Rock the Block Season 2 finale.  After six grueling weeks of competition, we finally get to know the winner of the season's finale of Rock the Block.
Rock the Block Season 2
The competition has been fierce with twists, turns, and huge surprises. But let's face it, we're dealing with four incredible teams.
Rock the Block Season 2 Cast
The cast of the show included the show's host Ty Pennington and a group of four teams. Each team consists of two design or home renovation experts. The first team had My Lottery Dream Home's David Bromstad and 50K Three Ways Tiffany Brooks. Followed by Nate Berkus and Jeremiah Brent from Nate and Jeremiah: Save My House. Also, Brian and Mika Kleinschmidt from 100 Day Dream Home. And lastly, Holmes + Holmes's Mike Holmes and Windy City Rehab's Alison Victoria.
Rock the Block Season 2 Location
A special neighborhood was created for the teams from the ground up in Paulding County, Georgia. In six weeks, these teams are given 225,000$ to spend on their respective homes, to add as much value as possible. The team with the highest appraised value of their house after six weeks wins the competition.
The Six Weeks
Each week the teams were assigned a certain zone in the house to be transformed. Then at the end of every week, an HGTV expert came to take a tour of their home and evaluated the team's work. These judges decided every week, who designed the space, the best, and added the most potential value in Rock the Block Season 2.
In week one, the teams took on the kitchen and the dining space of their homes. The teams were given a secret mystery box challenge, which had some random items they had to incorporate in this week's space. This was where Alison and Mike's plan of the attack began to unfold in Rock the Block Season 2 Episode 1.
The next week, the teams finished the first floor with the entryways and living rooms. David and Tiffany proved their risky and bold decisions paid off.
Week three, it was time to get upstairs. The main bedroom and bathroom was their goal for this week. They also had to go through a color challenge this week. Each team had to choose a color and then incorporate it into their spaces. Underdogs Brain and Mika expected to earn their first victory. But it was again, team Mike and Alison that was awarded a win. That was it for Rock the Block Season 2 Episode 3.
The competition intensified, as the team moved down with the basements in week four. This time they had to face a heavy metal challenge. The teams were given a pile of heavy metal materials, which they had to use in their basement in a meaningful way. Nate and Jeremiah's design and the idea of a rental unit for their basement won over judge Tamara Dae.
In week five, the teams tackled their home's exteriors. Despite getting another big move, Mika and Brain came up short again in Rock the Block Season 2 Episode 5. Nate and Jeremiah got their second win in a row tying with Mike and Alison, at two spaces apiece.
Rock the Block Finale
Now, the finish line is in sight. This time they're not going to work for a week, the teams have been given three days to finalize whatever work is left to be done in their home. After three days the winner for this Season's Rock the Block will be crowned.
Now the teams have one last chance to add value to make a case to the judges on why their team rock the block harder and better than their neighbors. This is the time to add that final secret project anywhere the teams want to their house, with whatever remaining money each team still has.
The Judges for the Finale
There are going to be three judges for the Rock the Block Season 2 finale. The first one is extra special because she rocked the block just like these teams in Season 1, star of HGTV's Help! I Wrecked My House, Jasmine Roth. The other two judges are going to be Georgia real estate experts, Ken and Anita Corsini. Who better to add two cents than the folks who are the actual builders and real estate agents of this block. Also, these are the people who are going to be selling these houses.
View this post on Instagram
The Final Budgets
David and Tiffany's remaining budget is 8,000$ and they are going to add a full bathroom upstairs to add more value. Nate and Jeremiah were left with 2,800$ but an extra 5,000$ from the last week's win gives them a total of 6,800$. They are planning to add a home theatre in one of the rooms in the basement as the final touch on their home.
Mike and Alison are left with 8,300$ in their budget. They're going to use 5,800$ for a backup generator outside the home to ease the future homeowner's mind to the home's power. After that, they're going to install an energy recovery ventilation system inside the attic with the remaining budget. It'll replace all the stale air inside and replenish it with clean air.
Brain and Mika with no win at all in Rock the Block Season 2 are left with 10,000$ in their budget. However, having a time crunch they are cutting out a huge wall in the third car garage to transform it into a home fitness center. Therefore, they are going to stick to the strategy of spreading out their budget throughout the house.
David and Tiffany's Modern Tudor
The judges loved their Tudor exterior. The landscaping and how they wrapped the four-side brick on that lower level of their home felt amazing. They went very bold and design intensive. No other team did a suite with a full bath right when you walk into the door, they're the only one. From the buyer's perspective, they ignored the fact that these are homes that need to be sold. They did not intend their design style for a client and they're not designing for themselves.
| | |
| --- | --- |
| Pros | Cons |
| Ombre Stairs | Black Wall |
| Mother-In-Law Suite | No Pantry |
| Tile Backsplash | Small Closet |
| New Kitchen Layout | Small Main Bathroom |
| Storage | Outdoor Space |
| Library Nook | |
| Beams | |
| Sitting Room | |
| Main Suite Tile | |
| Movie Theatre | |
| 6 Bed, 4 Bath | |

Nate and Jeremiah European Farmhouse
Nate and Jeremiah made it look, super high-end in Rock the Block Season 2. But as far as this particular area is concerned, have they gone too high? If you take out all their furniture, and some of their antiques in there, their house is still appealing to a buyer. The finishes they have chosen, stand the test of time. The marble floors are insane like wow. Four-sided brick adds tremendous value. Their curb appeal is also really on point with that screened-in porch. It feels like one really big outdoor entertaining area. They simply added square footage.
But the former winner of Rock the Block, Jasmine Roth felt like Nate and Jeremiah did not have the family living in their mind when they were designing that house. However, if we look at their basement, it's a true in-law suite. Furthermore, they put a bolt lock on it and they have a full kitchen down there. The fact that it could be income-producing is a tremendous value. The judges unanimously settled on for them to get a bump on the basement.
Here are some of their Pros and Cons
| | |
| --- | --- |
| Pros | Cons |
| Marble Floor | Functionality |
| Screen-In Porch | Draped Wall (Main Bedroom) |
| Beams | |
| Brick Exterior | |
| Open Main Suite | |
| Home Theatre | |
| Rental Property | |
| Separate Entrances | |
Mike and Alison French Countryside
Let's move to Mike and Alison's home. They have some rooms that are really stunning in the entire Rock the Block Season 2. Their kitchen is special. The first thing to notice is brick, and it adds value. The question is, as realtors, what kind of impact does that kind of design and beauty, or finishes have on a sale? Let's take their tile, for instance, the ombre. From a beauty perspective, it's stunning, jaw-dropping gorgeous but in terms of added value, on an appraisal or a sale price, in this market, here in Georgia, you're not gonna get it out for the cost of the tile, of the material itself. Leave the cost of labor to install it. It is obviously an upgraded bath compared to comparables, but it's so far upgraded. It caps out.
Moving on to their bedroom closet, it's unmatched and that's a selling point. A backup generator is a huge plus, and their air filtration system too. However, there were certain things questionable like putting green, they don't know if the buyers are going to appreciate it or not.
| | |
| --- | --- |
| Pros | Cons |
| Iron Spindles | Wood Chandelier |
| Extended Beams | Putting Green |
| Brick Arch | Outside Access |
| Fireplace | |
| Wood Headboard and Ceiling | |
| Custom Closet | |
| Bathroom Doors | |
| Ombre Tiles | |
| Dual Closets | |
| Home Office | |
| Extra Bedroom | |
| Outdoor Kitchen | |
| Generator | |
| Air Filtration System | |

Brain and Mika Southern Craftsman
Let's move on to the flow and function of Brain and Mika's. They finished so strong. Their exterior came together in a day and a half. It's not brick but it catches your eye. The color, the textures that they used on the exterior fits Georgia to a T. Therefore, they were smart. As much design Nate and Jeremiah pumped into their house, Brain and Mika went the opposite. They were focused more on the family functionality and a lot less on the design. They did have some design elements but they played it safe on Rock the Block Season 2, design-wise.
They've got a covered back porch, smart Pergola, that's a covered space. Their closet goes to the laundry room and this is money. In their shower, you can wash your children and dogs. When you look at appraisal, you get to the bottom of all the typical stuff and there are boxes for additional features. And they covered it because it isn't a fancy tile, it's an additional feature. They spread their money, touched every single part of that house, they didn't even let the garage go untouched. The third car garage converting into a gym is just brilliant.
| | |
| --- | --- |
| Pros | Cons |
| Extra Bedroom | Powder Room |
| Hidden Pantry | Small Glass Railing |
| Double Dishwashers | Bowling Alley |
| Electric Fireplace |   |
| Pergola |   |
| New Bathroom Layout |   |
| Closet |   |
| Laundry Room |   |
| Mother-In-Law Suite |   |
| Exterior Kitchen with Stairs |   |
| Home Gym |   |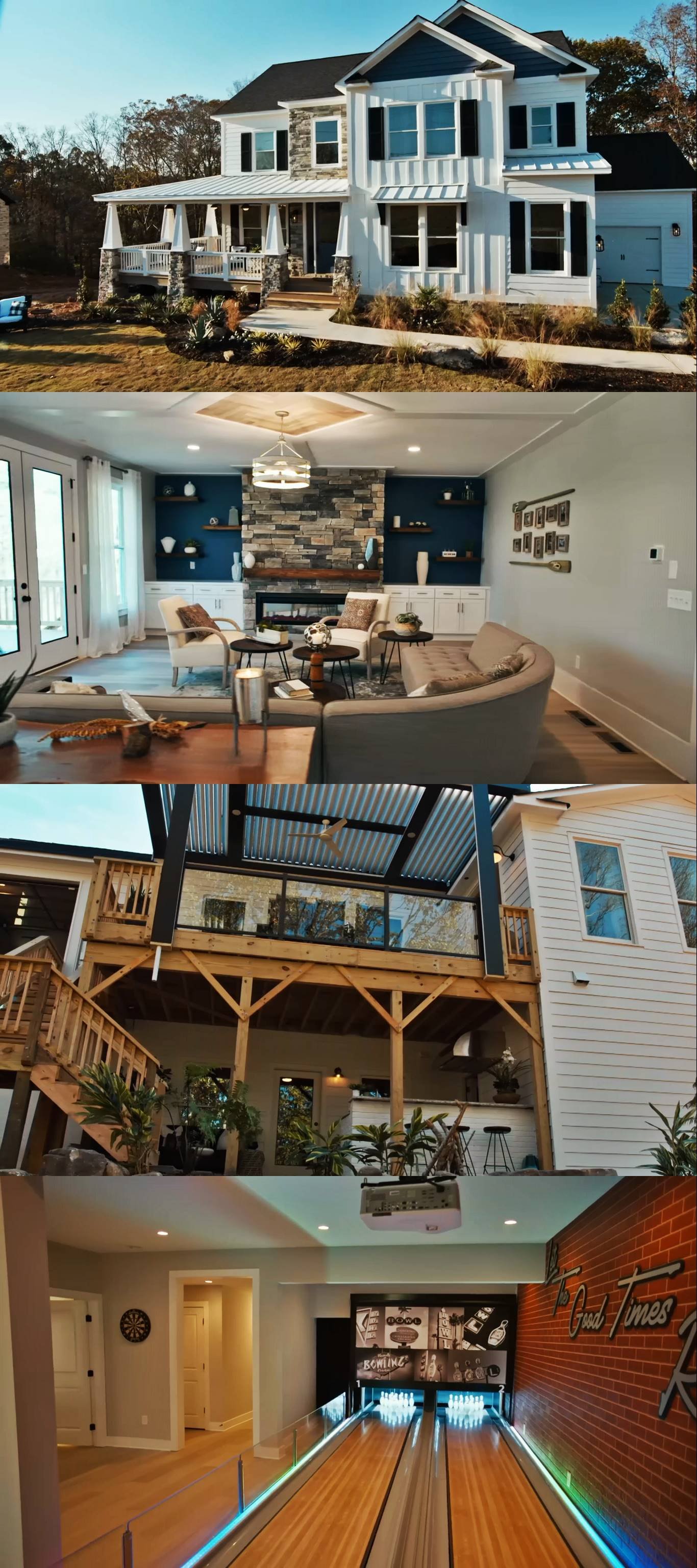 Rock the Block Final Appraisal
It's time to crunch numbers. Only one of these teams is getting that street named after them. What an incredible journey these teams have been. They have gone through all, blood, sweat, and actual tears. In six short weeks, they took these homes and turned them from blank canvases into true masterpieces. No matter which team wins but these truly are the best of the best. Jasmine Roth, the winner of the first edition of Rock the Block is going to pass on the torch.
Rock the Block Season 2 Winner
It's time to know which team will win it all and have the street named in their honor. The appraised value of the winning home is 635,000$. Therefore, it means the winning house added 150,000$ to its value. The winner of Rock the Block Season 2 is Brain and Mika. As the fireworks started, everyone started hugging and congratulating Brain and Mika on their victory. From losing all the five weekly challenges to winning Rock the Block Season finale. The appraised value of the top three homes was less than 6000$ apart.
Leave your thoughts below on your favorite house.