Small Apartment Bedroom Makeover
This small apartment bedroom budget makeover story is by Natalie Chong who is a professional designer.
Small Apartment
So it was a rental unit. There was two small apartment bedroom and my brother-in-law Justin had an old roommate. So he was in a smaller bedroom which now his new roommates in and it was just hard to plan. The state of it was just bare-bones. The mattress was on the floor, no blinds. Blinds that are just really cheap and crooked.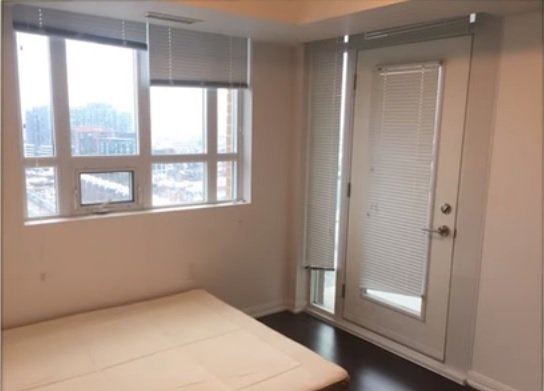 Hope for future Sister-in-law
The reason that we decided to do his small apartment bedroom makeover was that of his heart *God Bless him* and I adore him. I just wanted him to be happy and also I had just said if there's any hope for my future sister-in-law this is not happening.
The Budget
My budget with $2,000 and I think that it was a fair budget based on everything Justin wanted to do.
Storage
Bedroom with storage again, I'm a big storage believer. His bed has four drawers. To store things that are just really awkward to store like your overnight bag or you know your gym clothes, running shoes etc. His side tables, I wanted them to be off the ground just to keep it more open and airy but they do have a cupboard that opens you can tuck away your cables, extra candles whatever you need. The big thing to make condo spaces feel cozy and I'm a big believer in drapes the second thing would be textures. So having a duvet, having staging pillows as well as sleeping pillows if it was up to him he'd sleep with no pillows.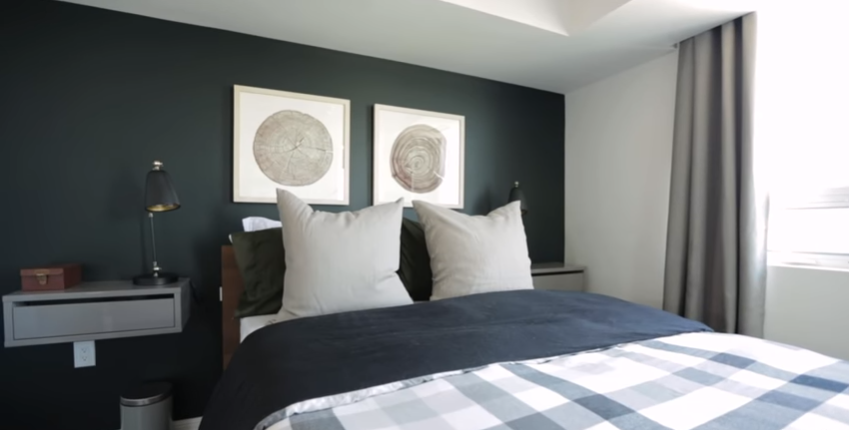 Paint
So we agreed on six and he throws everything on the floor as anyone does. The other thing that I did is paint and so the paint that's on the main wall is almost like a dark green. Tying that with the duvet cover is a checkered plaid. So I guess you could say like modern lumberjack feeling.
When you're doing the accent wall you shouldn't paint the bulkhead because there's just a break in continuity. Accent walls in small apartment bedroom typically only work if it's completely delineated on all sides. Not half wall, not something that has a tapered. It has to be a complete rectangle because those are the only ones that'll work well.
Man Needs His Space
Every man needs a place to put his cufflinks, his watch, plug in his phone. I just wanted a touchdown station where when he came in after a long day. A space he could dump his things in someplace that can also look great but is also super functional. This way they're not littered all over your floor like a typical bachelor pad would be.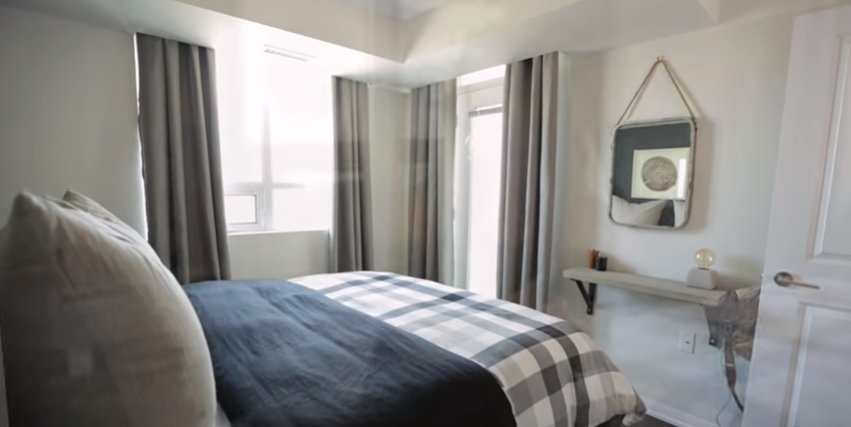 The Outcome
Justin was happy. I think he's never really had the focus on him to change the small apartment bedroom that can be so great. I mean he loves it and I love that he loves it. At the end of the day, that's the most important thing. He was pretty much speechless.  Additionally, there were some Bathroom Decor Ideas for Small Bathrooms but we thought to work it another day.
Which idea did you liked the most? Let us know in the comments section below. Or join our Facebook Page and Group.
This information is not associated with Nate Berkus nor Jeremiah Brent. Feel free to subscribe.