The reason I love it so much it's because it looks like it could be bought at a store but the best part about it is, it's so cheap to make. So the ladder shelf target is to make one. If you want to learn how to make this just keep reading the article and we will just jump right into it.
Ladder Shelf DIY
To begin making this ladder shelf, you will need to go to the hardware store and buy:
Four 6 feet 
Two four feet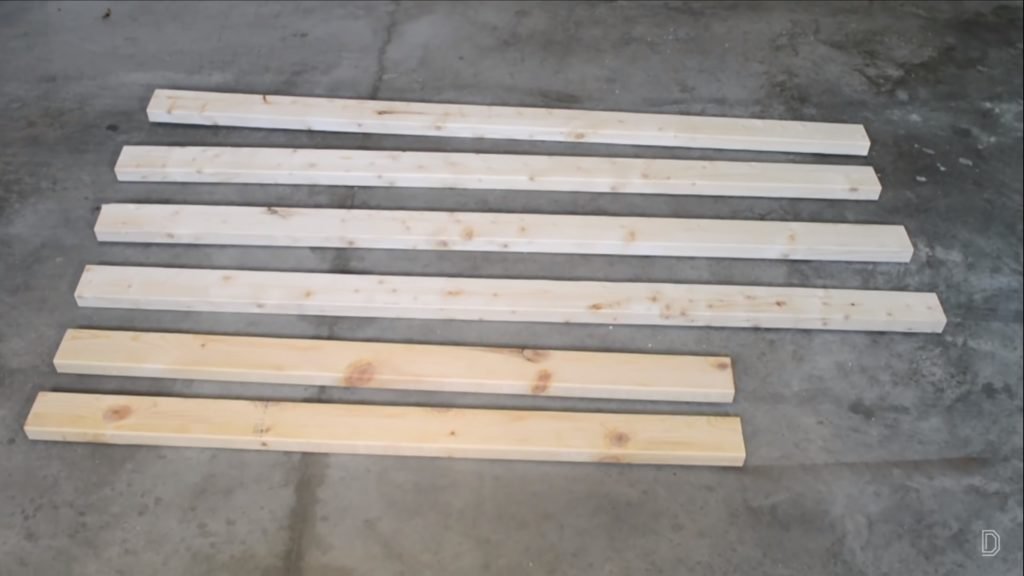 You will also need two sheets that are 2 feet by 4 feet long. Start by sending each wood piece with a sander. Remember to get the front and back along with the sides. I recently bought an electric sander and it is a miracle worker. It makes a process go by very fast. However, you necessarily do not need this and you can go on about it with your sandpaper.
Apply Stain
Now, it's time to apply the stain onto the wood. I'm using Danish oil in the medium walnut color. Also, use this to cover the 2×4 sheets as well. Now, it's time to cut the four-foot lengths to use as the ladder steps. I cut each piece to one foot and at the end, you should have a total of eight. Also as you go along with this, remember to go over each end that you just cut with some stain.
Easy Hinges
Next, you will need two of these six-inch gate hinges. Take two of the six-foot links and align them into a long line. In the middle where they touch attach the hinge with screws. When you are done you can then fold the two pieces on top of each other. These are the legs of the ladder. Go ahead now and repeat this step to the last two pieces.
Next, lay the two legs side-by-side to each other on the ground. Space them out evenly so that there is exactly ten and a half inches in between them from the top to the bottom. You can place them according to your taste, some prefer ladder shelf IKEA or a frame ladder shelf. Place the first step 16 inches up from the bottom and measure the same height onto the other leg to ensure that they are level and then screw them in.  From there on I just kept screwing in each step about 11 inches in between each other.
Cut the Shelves
Then I flipped it to the back and repeated this whole step again. Now, it's time to cut the shelves. Take one of the 2×4 sheets and make a cut that is 4 feet by 10 inches. Then cut another that is 3 feet, 2 feet and lastly a foot. The width of all of these should be 10 inches as well.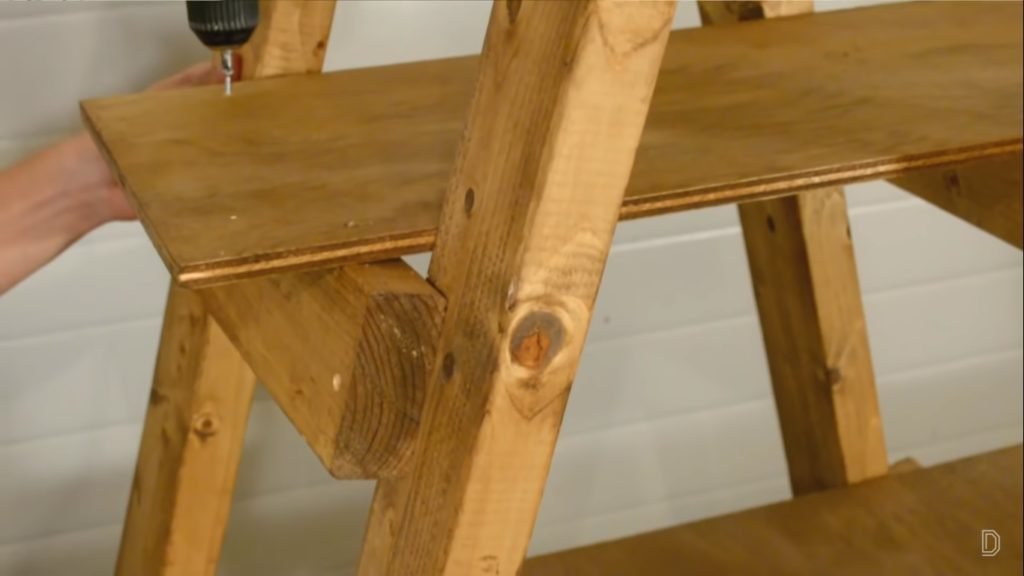 Then pull the latter apart so there are 3 feet in between each side and then place in the Shelf from biggest to smallest. Measure each side of the shelf that is hanging off to ensure that is centered. Then drill in the 2 screws through the Shelf into the step. Finally, do this to the other side as well. Now you're finished. You can make ladder shelf with drawer too if you want.
It's Done
That's how you make a corner ladder shelf. The reason I really like this is you can make it any size you want so bigger or smaller. You can place wherever you want. Some people like to place near a ladder shelf bathroom.
Ladder Shelf Cost
The best part apart it, you don't have have to spend a fortune. The wood was about $20 total (excluding the nails, hinges, etc)!
Feedback
Join our Facebook Page and Group. This information is not associated with Nate Berkus nor Jeremiah Brent. Feel free to subscribe. If you do ever make this do tell us in the comments below how was your experience?