Today we share a story of renovating small house on budget by designer Christine Elliott. She shares her story about her clients and renovation project.
Renovating Small House on Budget
My clients are a young professional couple in their 30s. They purchased this home as kind of a transitional home until they wanted to do a custom build. The house has a good flow to it, good bones but it just really wasn't their style. They brought me into a kind to make it a little bit more like them. My clients have a bit more of a traditional side to them, still, want a bit of trendiness to it. They really gravitated toward stuff that had more curved lines, more elegant details.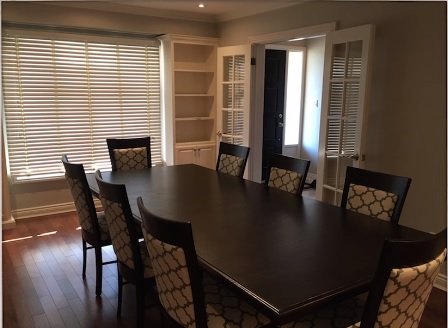 Dining Room
The dining room is quite a large space and they already purchase this really large table. I didn't want to ornate it too much with lots of furniture, so we decided to do a paneling detail on the walls, to make the space seem a little bit more elevating & elegant. It had eight-foot ceilings but the trim work actually needs to feel a lot taller. Yes, I was renovating small house on budget. We decided just to paint it all white so that the pieces we did bring in just kind of popped up against the light.
Stylize the Space
We had a custom sideboard made. The built-ins were already here so it was really bringing in the right accessories to stylize the space. The parlor is actually my favorite space in the whole house. It was originally at the dining room right off the kitchen and it was quite tiny. You may have read many stories about Small Apartment Bedroom Makeover in Budget but this is different. This is an entire house. It was actually just the right size for a parlor.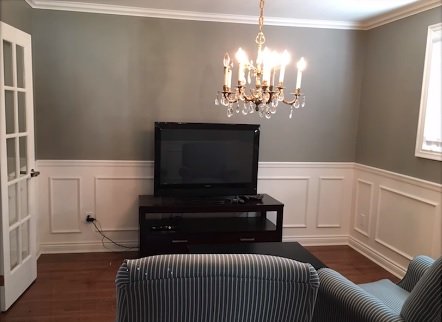 We were able to fit into nice chairs, a sofa, coffee table, and a little bar area. I decided to go easy on the walls just because the chairs were a darker blue. I just wanted to carry about palette throughout just make it kind of more monochromatic and really about the textures and then the contrast between the white and the creams that we used in there. You have to keep all the resources in mind when you are renovating small house on budget .
Color Combo
It felt to chose a really beautiful blue for this feeling. My clients were a little iffy at first but they absolutely loved the color. They wanted to have a theme they found out in Bathroom Decor Ideas for Small Bathrooms related article. I had this vision of this place that you could go to after you have this great meal and sit down and have a conversation with the whiskey in your hand or a glass of wine. It has a scale that allows you to have that one-on-one conversation without yelling across we want somebody.
The Kitchen
The kitchen wasn't on the original scope of work. It was actually a burgundy wine colored cabinets, a really awful. It just stood out like a sore thumb. So we have the cabinet sprayed rather than replacing them. What we did splurge on is lighting, I really emphasize to them let's spend a little bit more money here we can take it with you when you leave. It's not about renovating small house on budget, more about to feel it connected to yourself.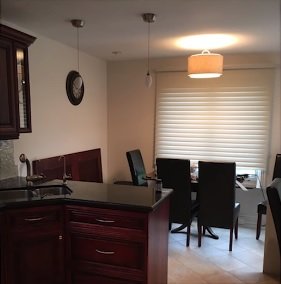 We had a custom built-in banquette, added some window treatments and a new backsplash and you just change the whole look of the space. So, that's actually one of my clients' favorite places to be and now where before they can stand being in a room.
Success of Renovating Small House on Budget
I am happy the way it turned out. I'm excited about their next home because I feel like we could show a lot of great pieces that we can bring to that next home. Maybe not necessarily recreate the look but get a very similar feeling. So that is my story of renovating small house on budget. I hope you liked it.
Did you like it? Let us know in the comments section below. Or join our Facebook Page and Group.
This information is not associated with Nate Berkus nor Jeremiah Brent. Feel free to subscribe.