Designer Carly Nemtean Renovate Kitchen with Country Style remodeling. She shares her story about her clients and this Kitchen renovation project. In this must-see makeover, discover how designer Carly Nemtean transformed an impractical kitchen into a contemporary, country-inspired space.
Renovate Kitchen with Country Style
The homeowners have been here for 10 years. They bought it. Just moved in with the products that they had. Fast forward 10 years later we decided to really reimagine the space, to get it to a point where they can really enjoy it, entertain it and allow their family to grow in it.
Kitchen Renovation Schedule
The kitchen cabinetry was a dark red. They had a little tiny island that they would congregate around, didn't allow for much prep space. It was a u-shaped kitchen. So, they wanted something that reflected their own style. The island that we designed for them is able to accommodate for breakfast and dinner. We also have bar still seething around the perimeter so that allows for a lot more flexibility around the space. We wanted to introduce banquette seating it's actually integrated into the island.
Kitchen Renovation Ideas
The homeowners were really enthusiastic about trying to be helpful as much as possible. I think that we've accommodated that. The kitchen is quite expansive. We have the cooking zone which is behind the island. They have a beautiful Wolfe stovetop. We decide not to go with a typical subway tile in the renovate Kitchen project. Some people like it in Renovating Small House on Budget, We wanted something a little more decorative a little bit more contemporary. So we ended up going with an arabesque style tile. The tile has a lot of dimension and glossy finish to it so, it really pops well against the white cabinetry.
Kitchen Remodel Questions
The question arises, what to consider when remodeling a kitchen? In our case, we have our central area for hot water, cold water, and additional sink for prep. This area of the house is all of their glassware, their stemware, their teas or coffees and how their morning espresso. Then the fourth zone is the pantry. It's all laid out to house all of their small appliances, recycling, as well as a desk for additional, meal prep. We have an additional fridge in the pantry as well for all the overstock that they purchase for all their big events.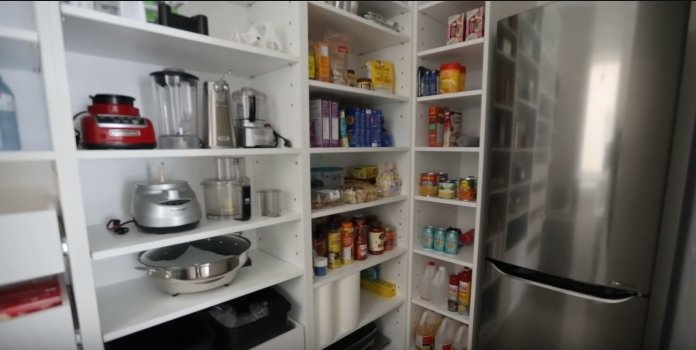 We decided to make the space reflect a bit of farmhouse feel, with modern aspects. So, we added a white maple three-inch tongue and groove to the ceiling. Just to warm up space, add a nice accent and tie in the family room to the kitchen.
The Family who Lived
The family room before was similar in size. The previous clients had a small apartment bedroom which they wanted a new layout. However, the layout did not work. Now talking about the current people, they had the original fireplace but no built-ins, nowhere to house a television, so what we did was we warmed up the space we built a stone wall. We created a limestone mantel and cabinetry that was darker than the kitchen but allowed us to really create a den-like feel in the space.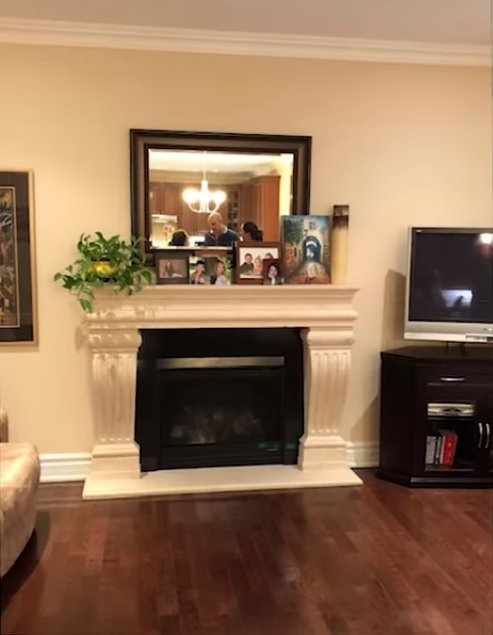 Maximizing the Depth
We decided to go with an oversized couch. The client wanted to maximize the depth and the width in the length of the space. We outfitted that by adding in also two Ottomans that acted as coffee tables as well as some warmer elements like the leathers and the soft tones of blues and purples. Again just to warm it up and make it feel a cozy den.
Life is Better
So, we finished this renovate Kitchen project about seven-eight months ago. They've been enjoying it and living in it and having all their holidays in it. Now, it actually is reflective more of their style and their comfort. It has a better sense of form and function in their space.
Did you like it? Let us know in the comments section below. Or join our Facebook Page and Group.
This information is not associated with Nate Berkus nor Jeremiah Brent. Feel free to subscribe.