Designer Erin Feasby shares the girl bedroom of a very cute client, four-year-old Sarah, and a nursery for her soon-to-be newborn sister. Get her top kids' room decorating ideas and read the biggest mistake parents make when decorating for their children.
Girl Bedroom
My clients here were four and one is not even born. As most four-year-old girls would tell you they would like their room to be pink.
I'm Sarah and I play Adele and this is my bedroom. My favorite kind of purple and pink. In my room I like pink.
Little Girl Bedroom Ideas
I find the biggest mistake people make in doing kids rooms and nurseries is they buy furniture for children. I don't see why you have to buy a small dresser, because you want this dresser to fit their clothes throughout their childhood. They also buy things that convert, like cribs that convert into beds but typically by the time they're out of the crib you want to get them that new big girl or big boy bed. I think you should just buy the modern furniture you envision them having right through all their childhood.
Importance of Light
Every little girl needs a beautiful light. I think it's a great opportunity to get almost like a piece of jewelry into the room. Bringing a little luxury into the four-year-olds girl bedroom too with a pretty tulle canopy. You typically see these canopies hung above beds but I think it's much more fun to put it where they can sneak away and read a little story or play with their dolls. So we have it in the corner where Sara likes to sit in her comfy chair.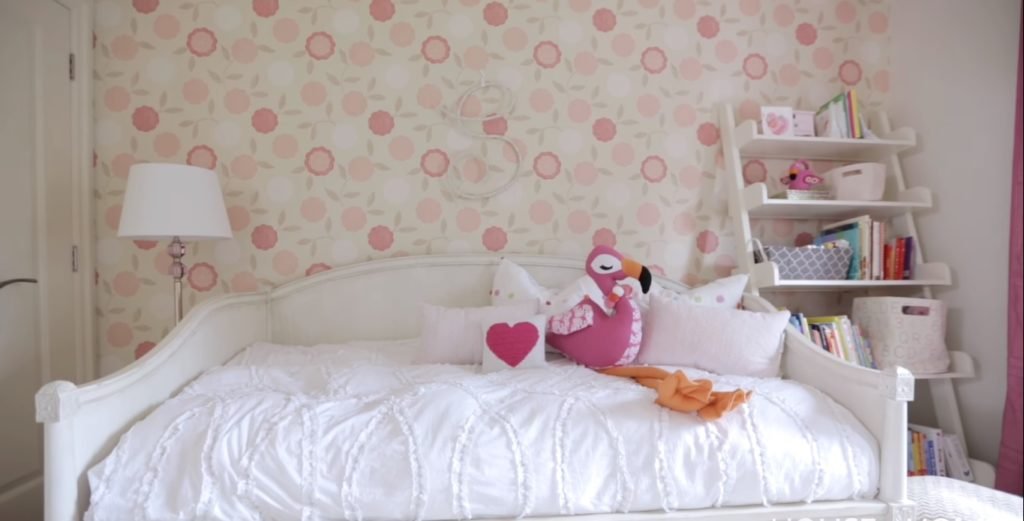 Girls Room Design
I like to do nurseries in two ways. I like them to be calm, and I want them to last. We don't want our clients to spend all this time and investment in a girl bedroom and baby boy nursery that they just have to change again in three or four years. We started off with the butterfly fabric. Was the one that I've always loved. It has these great blues, Gold's, creams. I could see wrapping this room in a real vanilla color that would last for many years, even when the fabric may eventually change.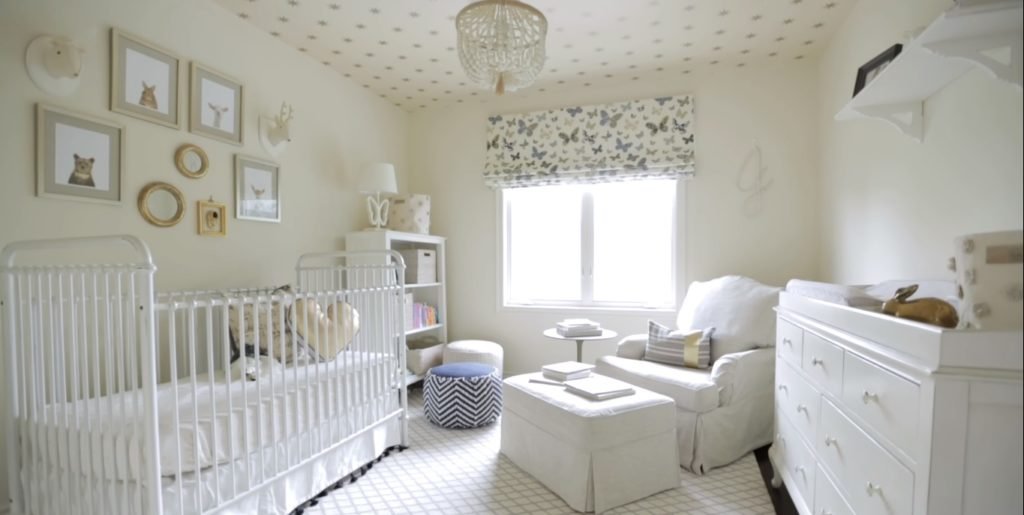 Star Wallpaper
The client loved the star wallpaper. It's a classic. It made sense to throw it up on the ceiling because it stars. It's something fun for the baby to look at. It's not too stimulating so she still sleeps. Every girl bedroom and nursery has to have a great chair. I do like to pick a chair that swivels and glides but that doesn't look like it swivels and glides. So you can use it in the family room someday. You can use it in this child's room is there a teenager. It doesn't feel like it was their nursery rocker.
Gallery Wall
I love the gallery wall hangings above the crib. Some people say I don't hang anything above the crib the baby's just going to grab it. But you know I don't like to shove furniture up against a wall anyway. So I pull the crib out. We bought some vintage frames, we got these cute prints from indigo and then my favorite element was, we just happen to have a frame that had no glass in it and needed that one special element and the client pulled out this gold baby moccasin and we nailed it straight to the wall. It looks adorable.
4 Year Old Client is Pleased 🙂
My very discerning four-year-old client seems quite pleased with her girl bedroom. My mother did try her best. I will say my Holly Hobbie wallpaper bedroom was quite lovely. But I have to say I really wish my mom had invested in some gorgeous drapes and blinds like these two girls have.
Feedback
Join our Facebook Page and Group. This information is not associated with Nate Berkus nor Jeremiah Brent. Feel free to subscribe. Do tell us in the comments below?