Designer Jennifer Koper shares a baby boy nursery she designed for her nephew, Zev, complete with sweet personal touches and pops of color. Read how key pieces of furniture, such as a convertible crib, swivel chair, multi-functional dress,  and stylish storage baskets work together to create the perfect space for any growing family.
Baby Boy Nursery
Today, I want to share with you a really fun project. My nephews Zev's nursery. He's adorable, newborn and the first baby in this household. So we wanted to give him a really really special nursery.
Baby Boy Nursery Decorating Ideas
We knew we wanted a lot of color. Surprisingly enough, the first pieces we chose were fairly neutral. They were the anchor pieces of the room. Such as this beautiful wooden crib, it actually converts into a toddler bed and also a daybed. All these bars come off, you can load it up with pillows and use it as a daybed.
Family Touches & Baskets
With nurseries, it's all about personal family touches. My sister-in-law actually made this mobile for her son. She bought felting materials online and felted each and every one of these little guys. I actually thought we'd end up with just a bunch of these but I can't believe how cute these animals came out. She's really talented.
Another great thing that we added are these awesome baskets from pare. They're really really cute with these pom poms but they're also very handy. They can hold quite a lot of items. So baskets, pillows, toys, it's gonna be really good when he becomes a toddler and you can just start throwing everything into these baskets and forget about it.
Swivel Glider Chair
The next piece we chose was the swivel glider chair. It's beautiful, classic and simple. We knew it would go with almost anything we wanted to do. It also can be used later on, it's not baby boy nursery specific, you can put this in almost any room of the house. It's nice and wide, so the family can actually all fit on here together believe it or not.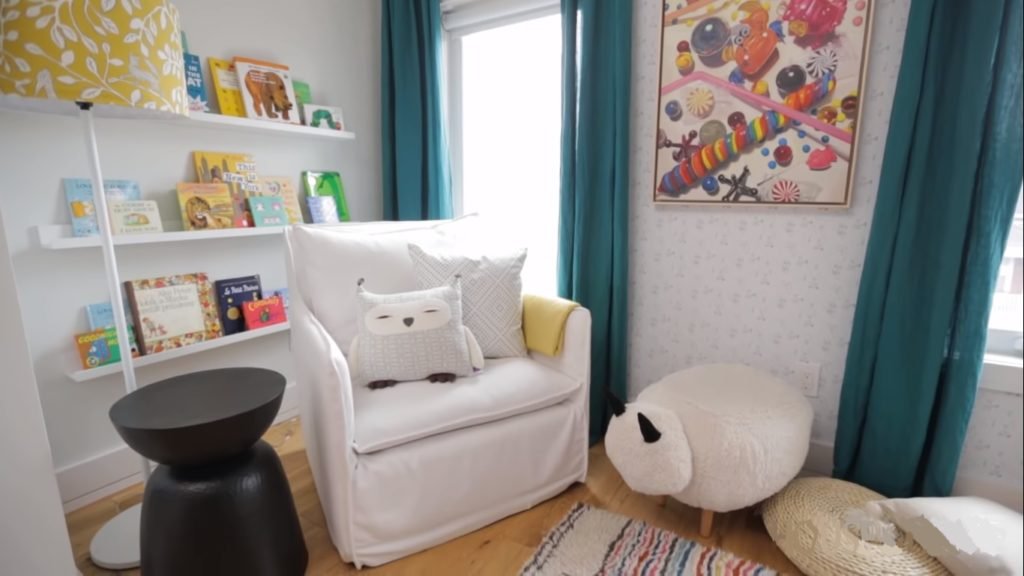 Book Nook
We have this really awkward nook to deal with that we weren't totally sure what we were gonna do at first. But we decided to make it a really cute Book Nook. We put up little ledges for books. We also added a few cute books from the parent's childhood which isa really nice touch. So now it's a perfect storytime spot.
The Olive Green Dresser
The last anchor piece of baby boy nursery that we chose was this beautiful olive green dresser that we got at Creighton kids. I was so happy when I showed it to Alisha and she was just as excited as I was about it. I was worried that she was maybe not going to want color on such a large piece of modern furniture but she loved it. Olive green can really act as a neutral. So it can grow Zev and be moved into different rooms.
Wallpaper
Right now, it acts as a change table, which is perfect for baby boy nursery and little Zev. The next thing we chose is this wallpaper from chasing paper. It's awesome because you can peel it and stick it. There actually stickers that are 4 feet by 2 feet and make it more manageable when you're putting it up. We also really love the neutral ground and the doodle like pattern. It's really fun.
Baby Boy Nursery Accent Wall
Instead of doing the wallpaper on just one wall like an accent wall hangings, I chose two walls. So that it was a little bit more cohesive once you're in the space. Also, the window wall is what you see when you're coming down the hallway into the room but then, of course, we also wanted the crib wall to have wallpaper. So we did the two walls.
Gift from GrandPa
This is a really special piece. It was a gift from grandpa. So we wanted to give it a place of prominence in the room. The only problem was that the frame was very thick and dark. So the lovely people at Helgen had it reframed for us in this beautiful wood frame. That's very thin and lets the art really shine.
This was a really really fun project and I'm confident that a lot of these pieces will be able to grow Zev, including the wallpaper. Baby Boy Nursery was a lot of work. So I'm hoping you're gonna like it until you're like 18, something like that.
Feedback
Join our Facebook Page and Group. This information is not associated with Nate Berkus nor Jeremiah Brent. Feel free to subscribe. Do tell us in the comments below?