Designer Olivia Botrie of Dart Studio eschews fleeting trends for timeless appeal in this contemporary kitchen. Discover what finishes she used, and get her tips on how to keep your kitchen decor current.
Contemporary Kitchen
My clients are a young couple and they were looking to renovate the main-floor to make it more youthful and fun. The existing kitchen was pretty old with some beautiful maple cabinets and a fake laminate granite countertop, and the u-shaped Peninsula. It really cut off the kitchen for the rest of the main floor.
The Idea of Contemporary Kitchen
They liked the idea of keeping the peninsula but my immediate feeling was let's explore some other options. We decided to redo the whole plan and we changed all the openings on the back wall. That involves moving the door in the window and really opening up the space by creating an island at flittered in the middle.
Costly? No
Well, that's something I think is intimidating to a lot of people, cost-wise it's not really that out of reach. If it means spending a little bit more money to achieve a better contemporary kitchen, I think it's always worthwhile. For these guys, since they do entertain a lot and the dining room is in the middle of the space, we opted not to do stools at the island.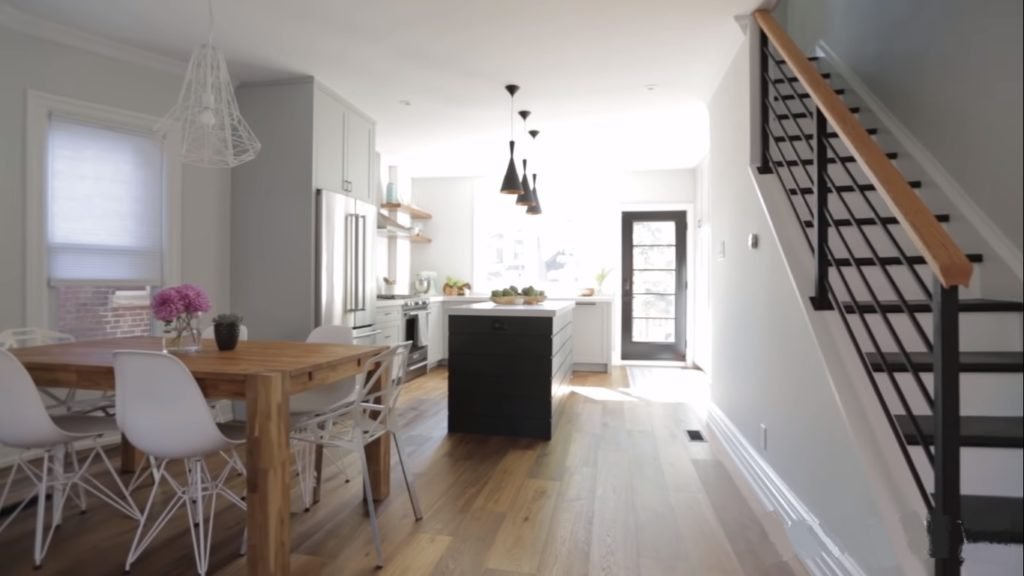 Small Details
We'd rather someone is going to stand around there and have a glass of wine, instead of the dining table rather than use this for a more seating space. I really like the groove detailing on the island. I think it's a small detail that most people probably wouldn't notice right away but it kind of subtly gives definition to the back of the island in a contemporary way.
Lack of Storage
Their previous kitchen actually only had one upper. So there wasn't a ton of storage. They are very tidy. So they weren't nervous about having messy shelves. They really liked the idea of it feeling open and airy. We were deciding on the finish for the shelves and I was really happy we settled on the wood because I feel like it really adds a lot of warmth to the contemporary kitchen.
Back Entrance
Their main interest is the back entrance. So because of this, we use that pantry storage as an opportunity to put some back door storage. One of the pantries is a back closet. It's actually a shallow pantry but we used hooks. It's angled shoe storage to be able to hold regular size shoes and coats. So it acts as a mudroom as well as part of the luxury kitchen design. The corner cabinet has a tricky little two-piece lazy susan which has a ton of easy storage solutions.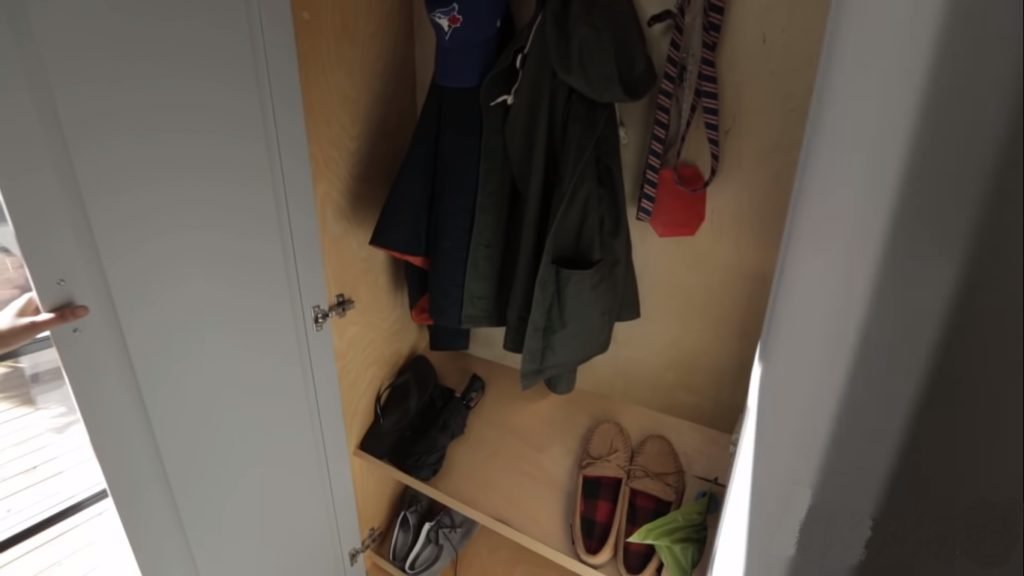 You Want to Do Only Once
I think the kitchen remodel is something you want to do once and you don't want to again. Trendy things are great but I feel like the structure of the contemporary kitchen. You want to go with something that's still gonna look contemporary in ten years. I feel like things you could always do to change up the kitchen. You could change the pendant lighting, you could change the backsplash, you could even change the finish on the shelves. If you wanted to change it up a bit, also hardware is a really easy swap out, it would really change the look at the kitchen.
Entertaining Clients
They entertain a lot, so really what we wanted to do was make the space feel connected to the rest of the main floor. Make it feel really open. Also bring in some softness, textiles, drapery and rugs to make it seem more full and lived in. Well I think aesthetically, we wanted to incorporate that kind of mid-century style that they liked. So we kept the sofa in the chairs in the coffee table which was great. It really just filled in and added different styles of textiles and different styles of furniture into that to make it seem a bit more eclectic in the contemporary kitchen.
Step-Down
When they purchase the house the railing was actually just a drywall wall, that had been opened up but was like step-down in two levels. So very awkward as a railing and looked very springing from the main floor. So we really thought to bring some more black and then repeating the horizontal lines on the back of the island on the railing and then we tied it in with a wood handle to kind of soften the look of it.
Collaboration
I feel like the best part of the project of the collaboration. Both of our ideas for contemporary kitchen combined to create a really fantastic end result. It was a very smooth quick renovation and they were so great to work with. They're thrilled it all came together really quickly. I think it really suits them in their lifestyle.
Feedback
Did you like it? Let us know in the comments section below. Or join our Facebook Page and Group.
This information is not associated with Nate Berkus nor Jeremiah Brent. Feel free to subscribe.