Designer Priscilla Wikkerink shares how she did this kitchen remodel for an old kitchen into a warm inviting space with classic elements.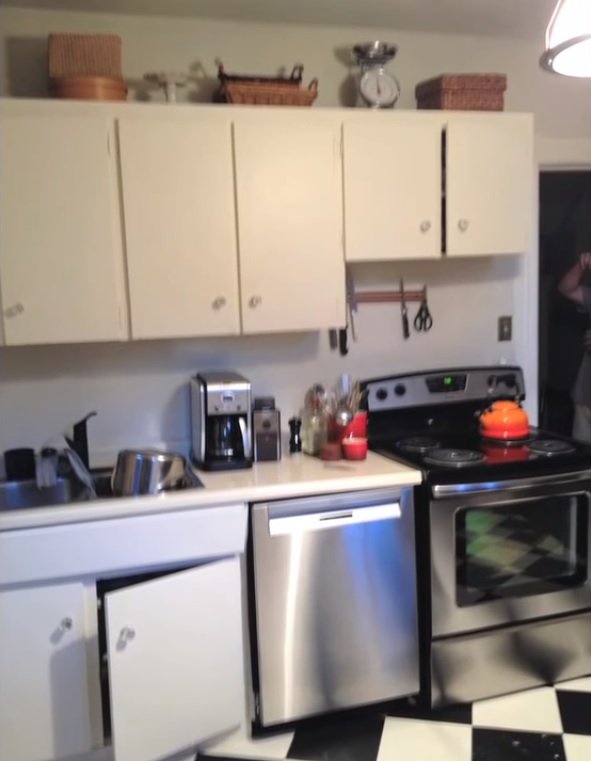 Kitchen Remodel
It was in pretty bad shape. The kitchen was old. It definitely needed some updating but most of all, it needed a layout change. We had some kitchen remodeling ideas but to keep in mind when designing this kitchen that it was for a family of five. This meant that we had to make sure that there was space to move around, a place to do homework and a place to make dinner.
So in terms of layout what we had to do is, open the doorway to the dining room, make it a lot wider and Center the doorway for the kitchen remodel. This gave us room to put in an island, plus for a large eight-burner range and a kitchen pantry cabinet.
Kitchen Remodel Before and After
The first thing we did was take it right down to the brick. At that point, we loop the plumbing, redo the wiring and did the installation. For this part of the renovation, we use a product called Icynene for the insulation. This product is perfect for anywhere you need insulation as well as attics and basements. It's a spray foam that not only insulates but also provides a great sealant.
With an old house sometimes you have small cracks, holes in the brick and with this product what it does, it seals everything nice, tight as well as provides insulation and energy efficiency. So this reduces monthly heating and cooling costs. Because this house is in the city, Icynene is especially good for a kitchen remodel because it has sound dampening properties. The process was easy it only took about an hour for them to spray the exterior wall.
Vintage, Old-World, and Classic
The look for the kitchen was somewhat vintage, old-world and definitely classic. I'm hoping that the homeowners find the kitchen warm and comfortable as well. The first thing we did with this kitchen remodel was the flooring. They took a hexagon tile and we in-set it in a wood border. The floor is also heated, so it'll be warm underfoot in the winter time.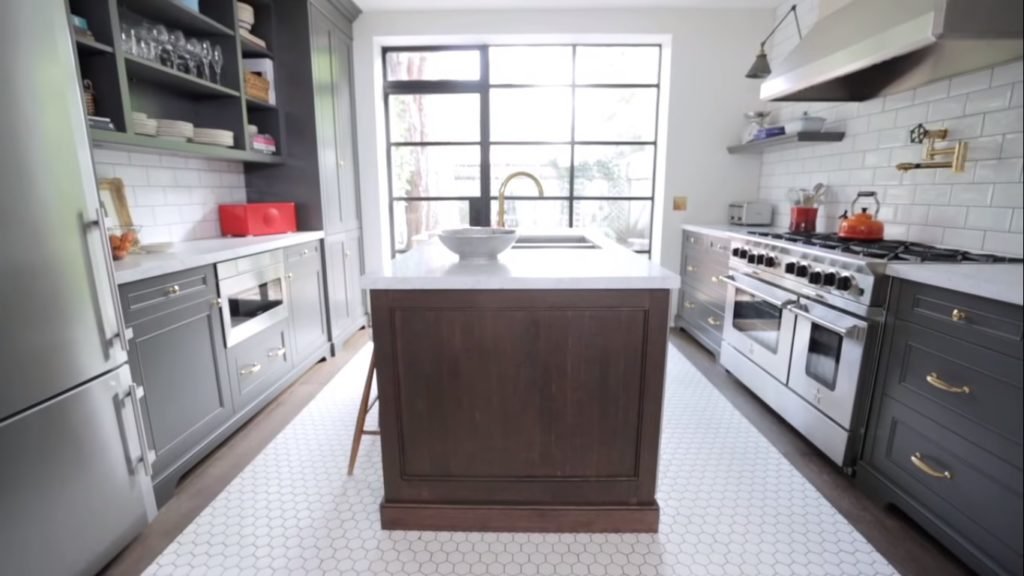 We chose to do a mix of cabinetry, we have lowers, we have open shelves, we have pantry space, we also have a place for display. The reason we chose to do this mix was to give the kitchen some personality. For a somewhat small kitchen makeover, it really opens up space and makes it feel larger than it is.
Dark Gray Cabinets
So we chose the dark gray cabinetry for the kitchen remodel and what I love about it is, it's warm. It adds drama and it also has some depth and really makes the brass hardware pop. We chose the brass hardware because we wanted to patina over time and feel vintage. So for the island, we chose to do this rough-hewn hemlock just to bring in another material and give the kitchen a little more personality.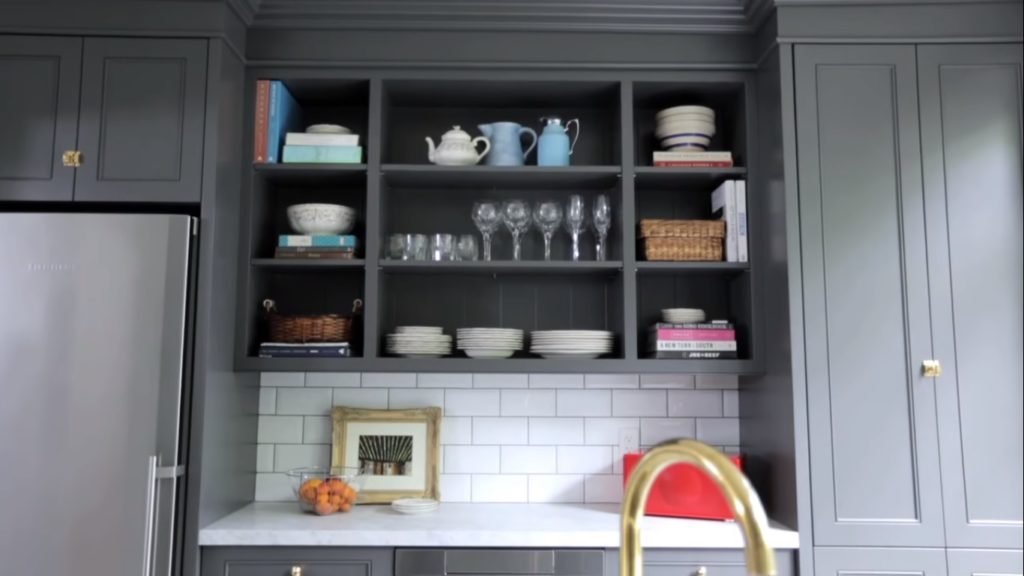 Back Window Indoor
We also chose to do the Carrara as the countertops. This is a classic material that wears beautifully over time just enhancing that vintage quality and it's a classic. As a designer, my favorite part of this renovate kitchen is the back window indoor combination. It's done in metal, it's gorgeous, it really opens up the space and I couldn't imagine the kitchen without it. Driving home that old-world feel we finished off the space with this faucet and beautiful pot filler. It'll patina over time and it really is the jewelry to this kitchen.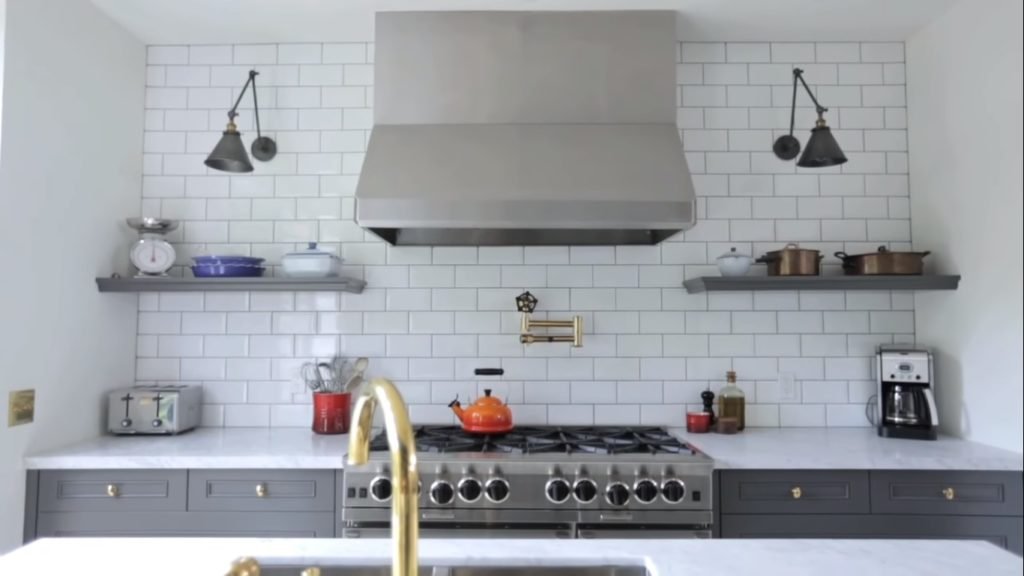 Comfortable
This kitchen remodel was a true transformation. Everything from moving windows, taking out doors and windows, moving appliances around, reinsulating, there's no wall that hasn't been touched. If I could describe this kitchen in one word I would use the word 'comfortable'. I think it's warm I think it's inviting and I know the family will spend lots of time here.
Feedback
Join our Facebook Page and Group. This information is not associated with Nate Berkus nor Jeremiah Brent or Nate and Jeremiah by Design Season 3. Feel free to subscribe. If you do ever make this do tell us in the comments below how was your experience?