Jeremiah Brent famous interior designer husband of Nate Berkus has recently posted a photo of him and his daughter Poppy on Instagram! The picture clearly shows that Jeremiah is teaching or guiding Poppy how to use a laptop or a certain function of a laptop. Would this mean that we will soon be seeing an Instagram account dedicated to Poppy Brent Berkus only? Or something of a YouTube maybe?  We are sure it wouldn't be Facebook because of the #DeleteFacebook movement trending. But if there is something of this kind, we(the fans) will definitely love it. We hope to see her if it was an opening of an Instagram but it seems Jeremiah maybe helping her with just how to use it.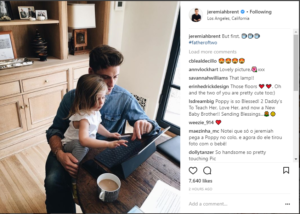 "But first, *Coffee, Tea sign* hash-tagged father of two" Jeremiah titles. With Poppy's interest in the digital media she has yet to baby sit her brother Oskar Brent-Berkus. Yes, Oskar is the newly addition to the Nate and Jeremiah Family. If she makes an entrance in the social media while she has a lot more yet to learn because it's not too far away when she's going to be teaching the same stuff to Oskar. The fans had congratulated the couple on the newly member to the family. Now both Nate and Jeremiah are father of two, indeed.
The couple has admitted publicly several times that fans what to see Poppy mostly. One of the video you can see it here. We know the reason why because she is simply adorable. Well, the couple celebrated her Birthday in March you can see the video of the birthday celebration of Poppy, Nate and Jeremiah here. The Birthday video consists of exclusive images of the birthday party and some of the unseen video clips of Nate and Jeremiah compiled altogether.
Nate & Jeremiah has been recently busy promoting their Season 2 of the show called "Nate and Jeremiah by Design". The episode 1 was on aired on Saturday 7th April and this weekend Episode 2 will be released. Jeremiah Brent shared his excitement on Instagram you can read the full article here. Nate and Jeremiah also went on Live on Facebook and Instagram collectively to interact with their fans and receive feedback about their season 2 premiere. Watch full video here.
We hope the Episode 2 is a huge hit too!