Nate and Jeremiah are back! We are the most excited for them. Season 2 has been premiered and it's clock down to Episode 2. Episode 1 was simply magical. They dual had the same chemistry, higher intensity and purer dedication in their work. Hope this continues reflecting in the upcoming Episode.
Jeremiah Brent has taken to the Instagram and posted a picture of his family. But wait, their family isn't completed here thanks to the newly addition to the Berkus Brent family, Oskar Berkus Brent is missing in the photo. The couple revealed their first complete family photo earlier this week which includes both the interior designers Nate Berkus, Jeremiah Brent, daughter Poppy and Oskar Berkus Brent.
This is the first official shot of the family after the inclusion of Oskar. Here is the picture below which Jeremiah posted few hours earlier with a saying '' We're ready for Episode 2 of #NandJByDesign this Saturday. Did you watch our season premiere? Catch up on TLCGo (link in bio) and see you this weekend only on tlc!''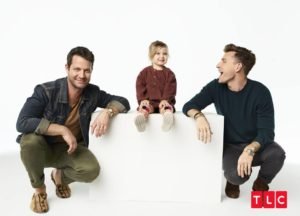 The couple also went on their Instagram Live and Facebook Live earlier this week hours after the Episode 1 of the season 2 was on-aired. Our readers can catch the entire video of the live broadcast here. The couple did a discussion and fans interaction session Live in which they answered design related questions from Fans all around the world. Most of the Fans were complimenting the couple after the success of the Episode 1 of Season 2. Their daughter Poppy received countless compliments as the fans say'' they have the cutest daughter in the world.'' Well what can you say?
While the picture Jeremiah Posted was of a photo shoot done a couple of months ago when the teaser of the Season 2 was released. The viewers can catch some of the shots of the trailer on our YouTube channel as well. The couple is wearing the same dress along with daughter Poppy which has been worn in the first glimpse trailer of Nate and Jeremiah Season 2 which was released back in February.
We wish best of luck to Nate and Jeremiah's team for the upcoming Episodes.
Feel free to subscribe our YouTube Channel and Facebook Page for the latest news from Nate and Jeremiah.