Designer Rachel Deeks shares the before and after of the baby's room, which was a walk-in closet. She transformed into a gender-neutral nursery room. Read how she decorated the baby's room with a mix of light woods, pops of color and animal accents to create a space that will grow with the child.
The Baby's Room
This client is actually a good friend of mine. They bought this house in Toronto. They hired me, as soon as my client got pregnant and brought me on to do this amazing baby boy nursery/girl nursery. This face believer thought was a walk-in closet. So the first order of business is we took out all of those closets. Started with this clean blank canvas.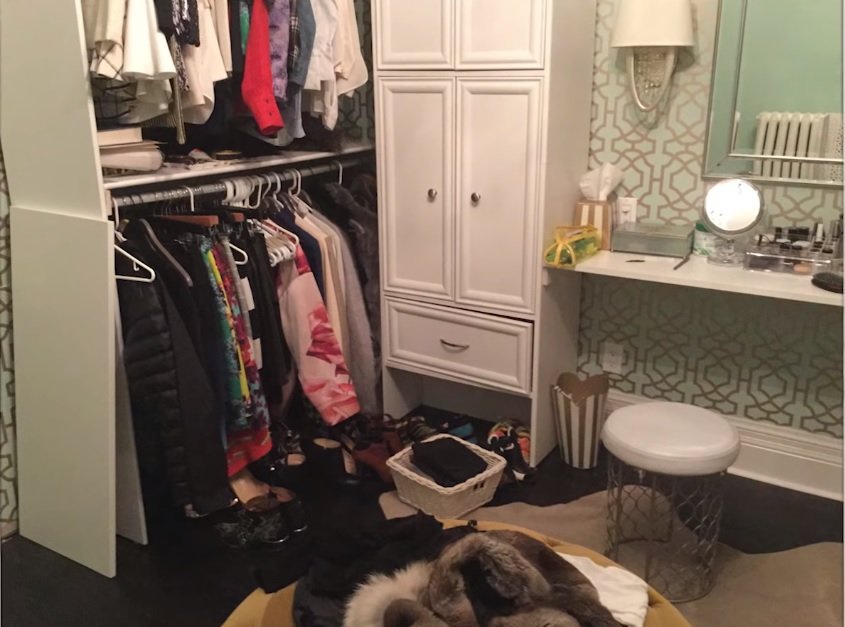 Gender Neutral Nursery
I didn't know if it was a boy and a girl. They wanted to be a surprise which is so fun. So it's a complete gender-neutral nursery.
Our starting point was this amazing wallpaper. We worked with a textile design company based in Paris. Custom designed this print. We were able to give them the measurements of the wall and blow out the scale of all of these animals. As you'll see throughout the nursery there's a lot of elephants and we were able to place the elephant directly over the crib which was a lot of fun.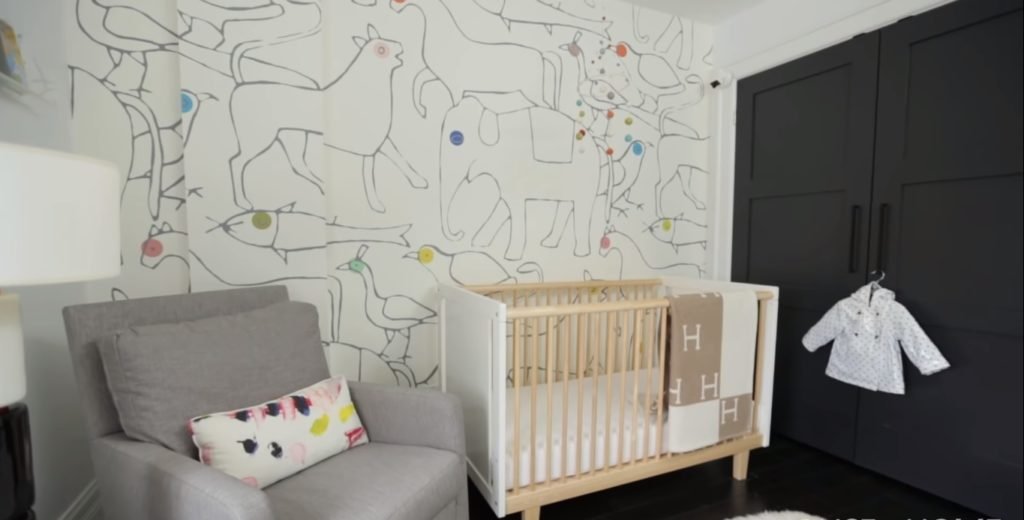 The Art
It had these black silhouettes but these dots of color that I knew in the curtain, and the art and other elements in the baby's room that we'd be able to tie in these colors. From the root of the wallpaper, it's all animal based. We have the Eames elephant that we source. Then also we have a paper mache elephant that we source. What's really cool about it, it's handmade from children in Haiti from recycled paper and recycled wire. So it was so lovely to also support that at the same time.
Designing the Baby's Room
When designing this room for baby boy nursery ideas or ideas for girl nursery, we wanted it to grow in with the child. We didn't want something that we were gonna be sick of after six months. We also really wanted to play with some of the natural woods against the existing dark floors. So we used a lot of light, wood some natural oak in the side table, just to keep it a really natural light airy space.
Books on the Wall
We really wanted to maximize the square footage in the baby's room. So we're able to put the change table against one wall hangings, on the crib against another wall, and we really want to keep the floor clean. So we use these gorgeous acrylic ledges to put the books on the wall which is great because you know if little kids they can keep books all over the floor all the time.
Baskets
Some of the playful elements that we brought in were the mobile. So again it's got those little colored dots. Then we also brought in some of the baskets from pear based here in Toronto with some animal prints, some big bold colors but just keep it really playful and fun.
One of the last pieces that we found is here from Hollis Clooney based in Toronto. It's this hook and again we just felt like it was the final piece to bring in these elements of color but in a subtle way using the black and the yellow and the Reds.
My Love for Nurseries
I absolutely love designing nurseries like the baby's room. I just feel that they're a little bit less serious than the dining room. You know so you can just have a lot of fun with them. It was so great to work with an old friend. I feel like even more than just working with someone that you don't know. You can really bounce some ideas back and forth. Also having similar tastes really helps as well.
Feedback
Join our Facebook Page and Group. This information is not associated with Nate Berkus nor Jeremiah Brent. Feel free to subscribe. Do tell us in the comments below?