Lynda Reeves gives us a first look at her newly renovated luxury bathroom! Peek inside the elegant, luxurious space and discover her top 10 favorite features.
Luxury Bathroom Ideas
Okay, they've asked me for five things that make my bathroom makeover perfect. I'm gonna try but I think it's going to be more like ten. Because I just love everything about this bathroom.
The Oval Shape Bathtub
I was here ten years before I renovated this because there was nothing wrong with the old bathroom. Something happened. It was a free-standing tub. They were everywhere and suddenly I said I've got to have one, time to renovate. It's a Victoria and Albert IOS limestone volcanic bathtub. I picked the oval shape because I thought it fit beautifully under the window and it's just big enough.
The Love for Vanity
The second thing would have to be my vanity. It's Calacatta marble, it's called vintage marble. I love the way it feels. This counter is these beautiful faucets. These are color pure line and the Calista sinks by Michael Smith under counter. I've always wanted to go open. I like the table feeling, it's airy and just feels luxurious. Of course, storage is an issue when you do that ,so this is a clever trick you can have one door built around your sink. It's great for you to know your toothpaste or everyday things. Then I have a wall of drawers and cupboards flush to the wall on the other side which is where all my storage goes. I love this.
Turkish Rug
The third thing is the rug. This rug really is vintage Turkish rug circa 1940 from Elte and I love it. This is a long skinny luxury bathroom. So the sight lines are really important. Look all the way down through the shower area, back down to the back I think that's a gorgeous long view.
The Blind behind the Bathtub
The space of number four is 'The blind'. This fabric is called graffito. It's by Kelly Whistler and I love it because it has that sort of modern art gallery feeling in the luxury bathroom.
Toilet
It has to be my toilet. Don't laugh but when I'm away from home I miss my toilet. It's the Toto 750 washlit. So you know it has bells and whistles. It does everything. Go online and read about it.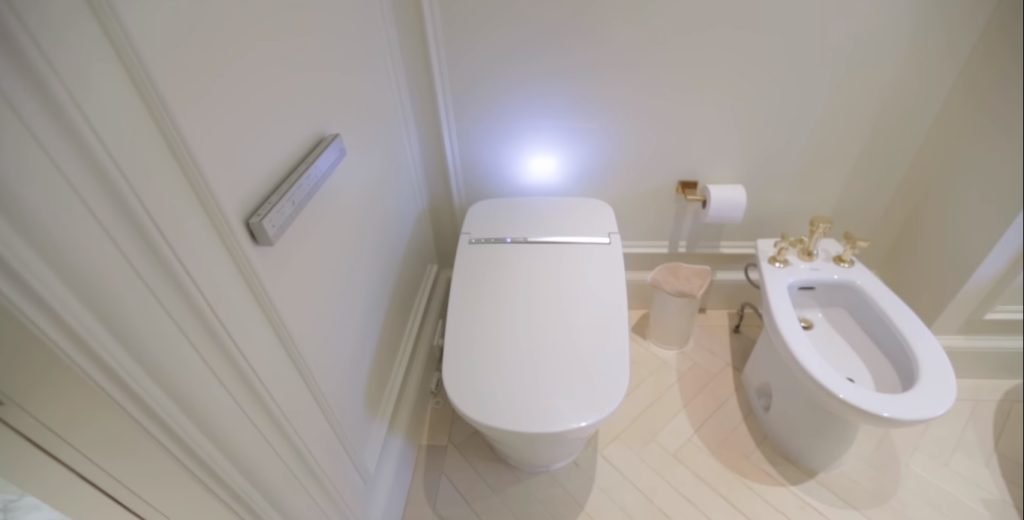 Vanity near the Bathtub
I have to have a number six for luxury bathroom. I'm sorry but I love my vanity. I've never had a vanity. This is West Elm. I recover the school is militants mirror. I love having a place to do my makeup.
Floor
Number seven is the floor. This is limestone. It has a tumbled edge which is done to make it look old. It's been installed in a herringbone pattern.
The Tray on the Bathtub
Number eight is this tray. Hard to find, really nice tub trays. These are sort of discreet. I think this has a bit of a Japanese vibe. I love this luxury bathroom, it's so serene.
The Storage
I don't know if we have a nine, I guess this could be 9. This is where I keep all my supplies and these drawers are great because they close flush. I got this hardware in Paris. So beautiful.
Colors
I love my paint colors that'll be ten. It's white down by Benjamin Moore. The walls are pearl. The baseboards are semi-gloss but the crown is high gloss. I think that makes all the difference. So that's it for the tips for luxury bathroom.
Join Our Community
Join our Facebook Page and Group. This information is not associated with Nate Berkus nor Jeremiah Brent. Feel free to subscribe. If you do ever make this do tell us in the comments below how was your experience?