Designer Reiko Caron renovated a dated small bathroom a grey and white bathroom makeover with a classic grey vanity, mosaic tiles, marble herringbone floors, pendant lights, and chrome fixtures
Grey and White Bathroom Transformation
This bathroom hadn't been renovated in 15 years and it desperately needed an update. The finishes were dated, there was a lack of storage, the shower fixtures weren't completely functional, and despite having a window, space felt dark. I couldn't wait to take it all down to the studs and start fresh.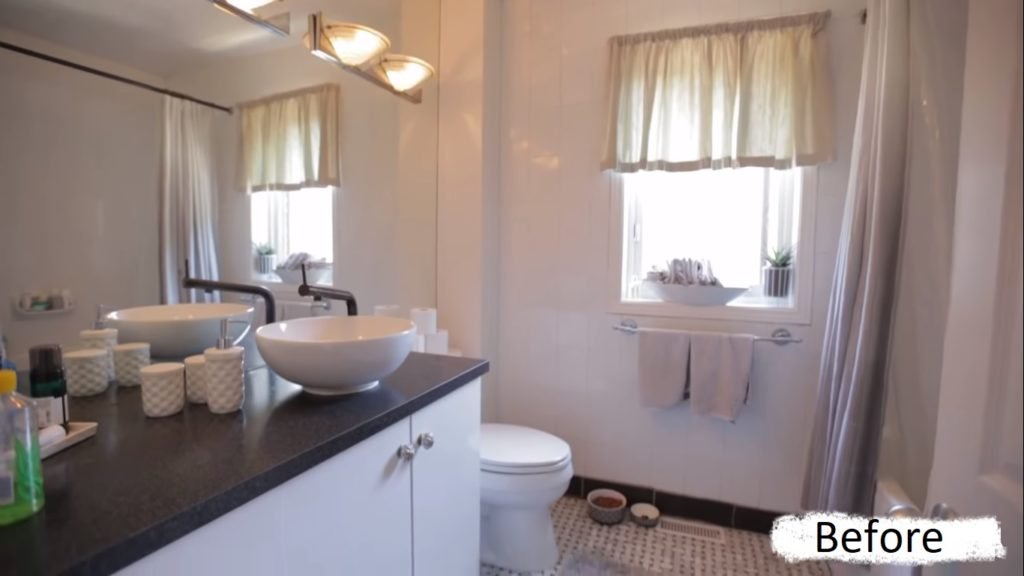 Dark Grey Marble Vanity
I searched online for bathroom ideas to give the small light grey and white bathroom a dream makeover. I knew I wanted to go with a classic elevated look and needed a jumping-off point. So I began by looking at vanities online. I fell in love with this dark grey and marble vanity and thought it'd pair perfectly with a marble mosaic. I didn't have a lot of time, so one stop shop really appealed to me. The fixtures and lighting we're next on my list, so I picked up what I needed right in the store.
The Sun Tunnel
Since we were taking it right down to the studs, it was the perfect time to make any structural changes. So we decide to think of bathroom decor ideas for small bathrooms and made this small bathroom feel bigger by elevating the ceilings and adding a Sun Tunnel. The Sun tunnel was an easy and affordable way to bring in natural light into grey and white bathroom space. So we placed it right in the middle of the bathroom for maximum impact.
Egyptian Door
Once the drywall was up, the tub went in and it was time for the tile to be laid. To frame the feature wall, we used a white subway tile up the walls and across the ceiling. For a personal touch, I thought it would be nice to add an old salvaged door to the new linen closet. We found a stunning Egyptian door but it needed a bit of work, so while the contractors were finishing the small bathroom makeovers, I stripped away the grime and finished it with a coat of oil.
Graphic Element
I love how bright and functional the new bathroom is. We made a break with the Sun Tunnel and a pale palette. We used a marble brick on the floor, laid in a herringbone pattern to add a graphic element to the space. To really accentuate the veining in the marble, we chose a gray grout. The stunning leaf shape mosaic was used as a feature wall in the shower. Something you look in grey and white bathroom walls and it's definitely a showstopper.
Grey and White Bathroom Accessories
We added two large niches in the shower to provide storage for all of the daily products. Therefore, we added a rain head which is a really nice luxurious touch. The vanity I ordered online did not disappoint. The marble top is stunning and the small drawers provide plenty of storage. We chose a round mirror and instead of a vanity light, we went with pendant lighting for a more decorative look.
It's always exciting to see such a beautiful transformation. I'm thrilled with how this grey and white bathroom turned out.
Feedback
Join our Facebook Page and Group. This information is not associated with Nate Berkus nor Jeremiah Brent. Feel free to subscribe. If you do ever make this do tell us in the comments below how was your experience?