Nate Berkus Instagram Giveaway
Today is your lucky day fans. If you are a Nate Berkus fan, you have a chance to win an exclusive price from the famous interior designer himself. Nate Berkus Instagram account is offering a gift for one lucky fan, a little competition for the fans.
A new Hashtag #NateReads
The Competition is quite simple. Nate Berkus has been posting his reading preferences (Set of books) for a year. This started in the mid of 2017. Every month from August 2017 till now Nate has been consistently updating his fans regarding the books he has read so far. He introduced his book recommendations by a new hashtag #NateReads You can check out his complete suggestions of books history in the link below.
His September Recommendations
This September Nate Berkus Instagram has suggested three set of pairs. Below are the names of the books along with the author names.
Here We Are Book by Oliver Jeffers

Madeline Book by Ludwig Bemelmans

Ada Twist, Scientist Book by Andrea Beaty
Oliver Jeffers offers a personal look inside his own hopes and wishes for his child–a missive about our world and those who call it home.
Madeline is all about what Parents need to know that the heroine demonstrates courage, and her teacher and schoolmates show concern and compassion. The brisk rhyme moves the story along, and the illustrations capture children's interest.
Scientist Ada has a boundless imagination and has always been hopelessly curious. Why are there pointy things stuck to a rose? Why are there hairs growing inside your nose? When her house fills with a horrific, toe-curling smell, Ada knows it's up to her to find the source. What would you do with a problem like this? Not afraid of failure, Ada embarks on a fact-finding mission and conducts scientific experiments, all in the name of discovery. But, this time, her experiments lead to even more stink and get her into trouble!
Competiton Rules
Nate Berkus Instagram latest post told what is the competition all about. Nate is going to give away this month's set of recommendations(mentioned above) to one lucky fan. All you gotta do is the following steps:
Follow Nate Berkus Instagram account
First of all, you have to follow the interior designer on his Instagram account here and if you are following him you can also follow us on our newly made Instagram account dedicated to the fans only here.
Tag 3 friends on the post in the comments section.
This is a must do thing. After logging on to the Instagram account. Make sure you tag 3 of your acquaintances on his recent post  on Instagram and comment below their names. Easy, right?
Go to his story to shop these books.
With his Instagram Story swiped up as the 24 hour time is over. This sounds like is not a must do thing. So you can leave this point as it is.
End time?
The competition will be closed at tonight, September 3, 2018. When the clock strikes at 12 tonight the entries are over! Make sure you follow all the steps which Nate mentioned on his Instagram.
Announcement of Winner
The one lucky winner will be announced on September 5, a couple of days later when the competition is over.
Limited to US
Unfortunately, the competition is limited to the continent of US only. So only US continent bases citizen can try their luck for the competition.
Nate Berkus Instagram New Post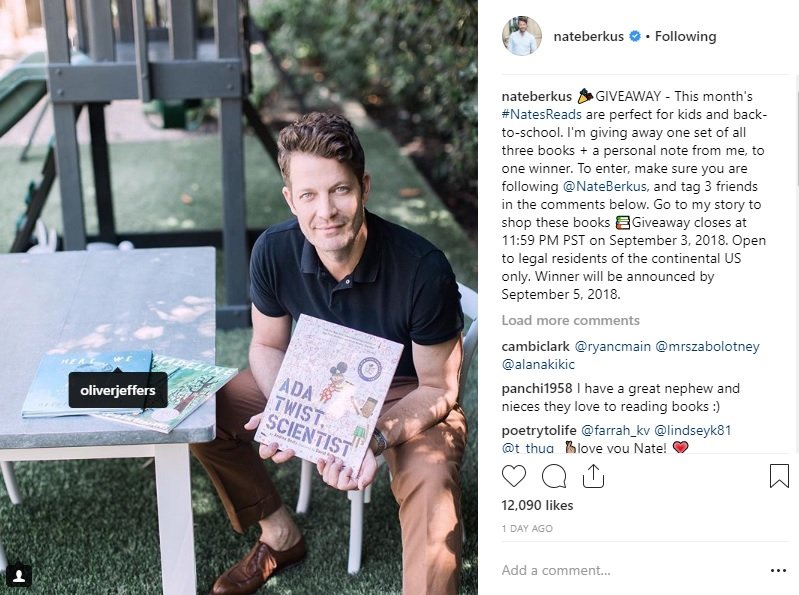 Nate Berkus Instagram account posted a picture with a quote.
GIVEAWAY – This month's #NatesReads are perfect for kids and back-to-school. I'm giving away one set of all three books + a personal note from me, to one winner. To enter, make sure you are following @NateBerkus, and tag 3 friends in the comments below. Go to my story to shop these books ?Giveaway closes at 11:59 PM PST on September 3, 2018. Open to legal residents of the continental US only. Winner will be announced by September 5, 2018.
This is what Nate Berkus posted on his Instagram account a day ago. Check out his Instagram for more updates and details. You can subscribe to our social media platforms as well to keep yourself updated regarding Nate and Jeremiah activities.
Our Social Media links:
Join subscribe to keep yourself updated. Remember these are all just fan-made sites.