Nate Berkus New Year Celebrations
Nate Berkus New Year 2019 Celebrations was with Jeremiah Brent and family. The interior designer posted a little video clip on his Instagram profile. In that video clip, Nate is holding his Son Oskar Brent Berkus in his arms. On the other hand, he is holding a drink while he poses for the camera for cheers. The video clip is captioned as
Cheers and #HappyNewYear from Oskar and me ? Which one of us will stay awake to midnight?
A few days ago he posted a picture on his Instagram. Just before Nate Berkus New Year Celebration post. In that Picture, Nate can be seen to be seated on the sideline of stairs while he looks at the other side of the camera, smiling. Nate captioned his photo:
The face of a parent who survived Christmas week ??

Jeremiah Brent New Year Post
Like Nate Berkus New Year Post, Jeremiah Brent also posted few posts regarding New Year. Firstly, he like Nate posted a small video clip in which he is playing with Son Oskar Brent Berkus. This adorable video will make you go "awww" as the girls say. Both Dad and Son can be seen having quality time by playing with each other. The video captioned:
My New Year's kiss. Will either of us make it to midnight tonight? Place your bets. #NYE2019
Nate Berkus New Year with family is quite sweet. Jeremiah posted a picture with both the kids. Oskar and Poppy side by side with Jeremiah. Oskar Brent Berkus wearing the same outfit as he did on famous Oskar Brent Berkus photoshoot with Jeremiah Brent. While on the other side Poppy is leaning on Jeremiah and vice versa. It is so cute. Jeremiah Brent Tattoo is also visible in the picture. Jeremiah captioned this wonderful picture:
Day 1 of the new 365…off to the perfect start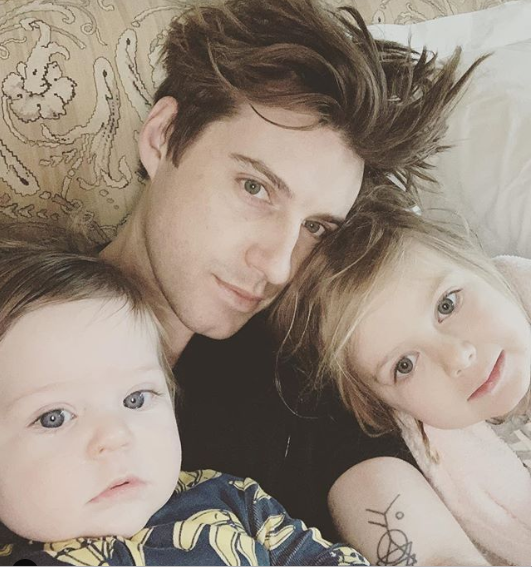 Nate Berkus New Year Reads
Nate Berkus New Year and New Reads. All the people who love to read can follow Nate Berkus reading Collection. Nate updates his reading status every month. This month Nate wasted no time to update his reads for January. He has chosen two books for this month.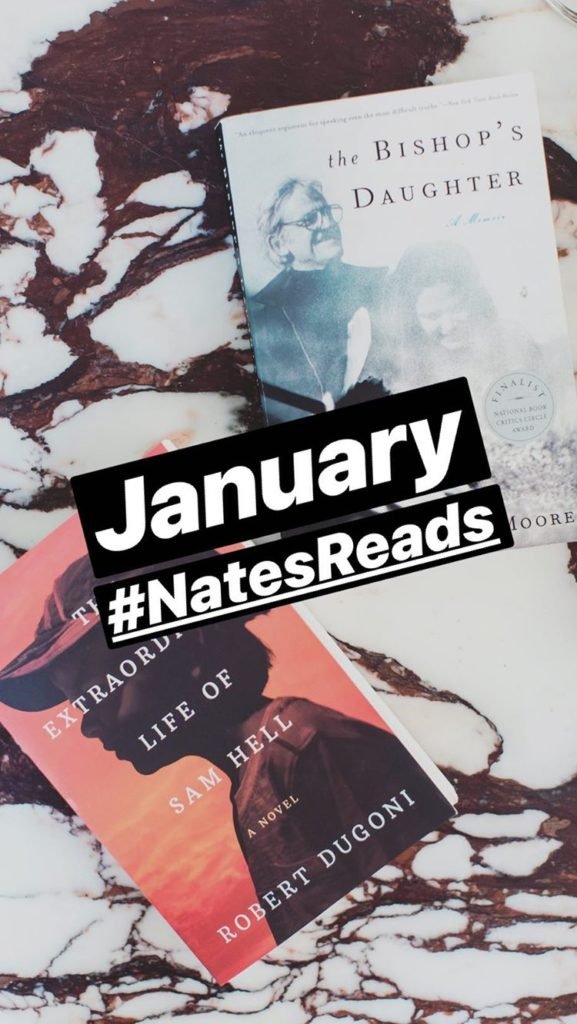 Books for the Month
The Bishop's Daughter: A Memoir by @moorehonor
The Extraordinary Life of Sam Hell" by Robert Dugoni
Nate captioned his reading post:
January #NatesReads are two perfect books to curl up with. "The Bishop's Daughter: A Memoir" by @moorehonor reflects on her father's flaws and how she was inspired to find a way to understand him. "The Extraordinary Life of Sam Hell" by Robert Dugoni is told in two separate timelines (Sam as a boy, and Sam as a man) that eventually come together in a captivating journey of strength. Head to my story to shop them now.
The Bishop's Daughter: A Memoir – Overview
Paul Moore's vocation as an Episcopal priest took him—with his wife Jenny. A family that grew to nine children—from robber-baron wealth to work among the urban poor of postwar America, prominence as an activist bishop in Washington during the Johnson years. Also, Leadership in the civil rights and peace movements. Almost two decades as the bishop of New York.
The Bishop's Daughter is a daughter's story of that complex, visionary man: a chronicle of her turbulent relationship with a father who struggled privately with his sexuality. While on the other hand, she openly explored hers. A searching account of the consequences of sexual secrets. With a depth of questioning that recalls James Carroll's An American Requiem. This memoir engages the reader in the great issues of American life: war, race, family, sexuality, and faith.
The Extraordinary Life of Sam Hell – Overview
Sam Hill always saw the world through different eyes. Born with red pupils, he was called "Devil Boy" by his classmates; "God's will" is what his mother called his ocular albinism. The words of his mother were of little comfort, but Sam persevered, buoyed by his mother's devout faith. Also, his father's practical wisdom, and his two other misfit friends.
Sam believed it was God who sent Ernie Cantwell. The only African American kid in his class, to be the friend he so desperately needed. And that it was God's idea for Mickie Kennedy to storm into Our Lady of Mercy like a tornado.
Forty years later, Sam, a small-town eye doctor, is no longer certain anything was by design—especially not the tragedy that caused him to turn his back on his friends, his hometown, and the life he'd always known. Running from the pain, eyes closed, served little purpose. Now, as he looks back on his life, Sam embarks on a journey that will take him halfway around the world. This time, his eyes are wide open. It brings into clear view what changed him, defined him, and made him so afraid. Until the time he can finally see what truly matters.
So which of these Nate Berkus New Year Books are you going to read? Leave your comments below.