Jeremiah Brent Instagram Q&A
Jeremiah Brent Instagram Question and Answer session took place a few hours ago. The interior designer posted an open invitation to the fans on his official Instagram account. Check out all the questions of fans answered through Jeremiah Brent Instagram account.
Jeremiah Brent Instagram post
Let's do it, ask me anything.
All the questions were answered through Jeremiah Brent Instagram official account. Last month Nate celebrated Jeremiah Brent Birthday with family and colleagues and shared the pictures on Instagram. All the usernames of the brands/celebrities etc mentioned below are Instagram based.
Q & A, Fan versus Jeremiah
Products and Brands
What's the product you use for your hair, Thanks!!! I air dry and tousle in @unite_hair conundrum paste.
What fragrances do you use/like? For home: I burn Palo Santo every day and one of my favorite candles is Feu De Bois @voyagettcie. Also, love the potpourri by @santamarianovellal612. For myself: I love the perfumes from @dsanddurga
What do you use to keep your skin perfect? @Drdevicolbert & @Truebotanicals
Favorite fashion brand? @Ysl and @celine
What is your favorite backless loafer/collapsible heel shoe besides Gucci? @artemisdesignco & @driesvannoten
Thoughts and Pleasures
What's your favorite guilty pleasure after a tough day? Extra spicy, skinny margaritas. Cuddles and lots of cuddles. *Hell Yeah*Emoji
Do you have a spiritual practice? You mentioning Palo Santo sparked my interest… I am very interested in Buddhism and mindful meditation. – One of the first things I do when I wake up every day is taking a moment to meditate.
What does the tattoo on your arm say and stand for? How many tattoos have you got? Very popular question! I will have a blog post soon on this week. Stay tuned.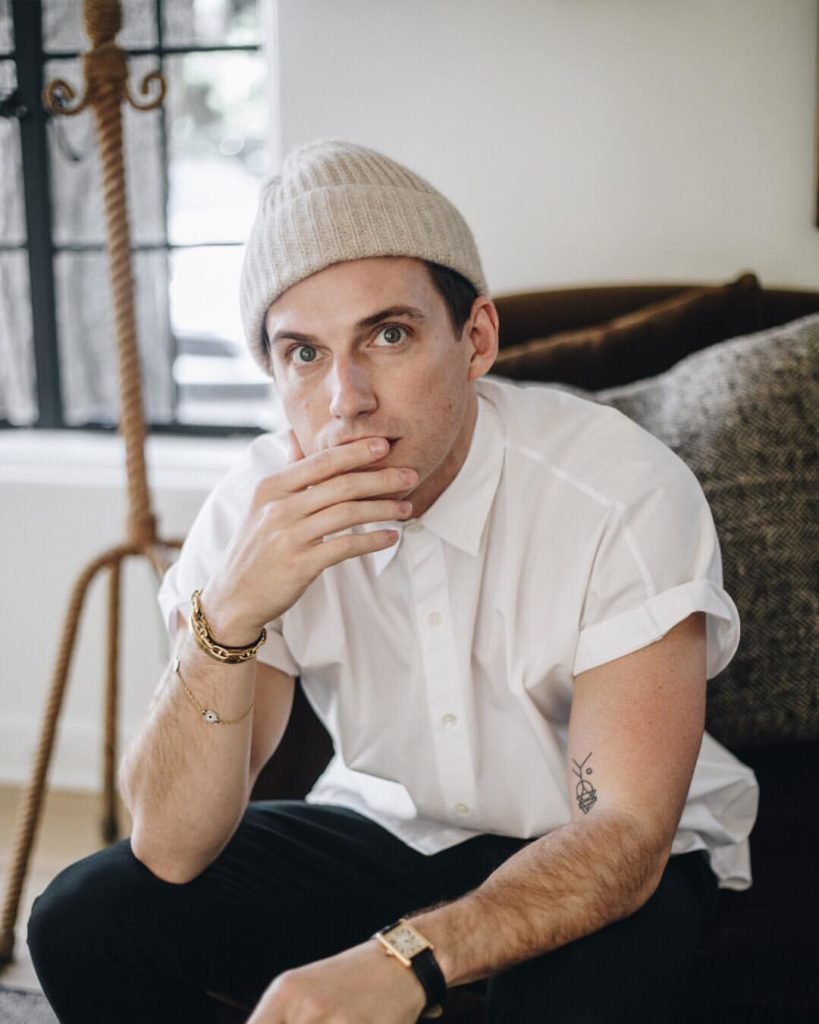 Are you a morning person or a night person? Morning! I am up at 4 am almost every day.
Design Suggestions
White paint for small room suggestion? Alabaster or Chantilly Lace by @BenjaminMoore
What's your favorite color of kitchen cabinets? Smoky Taupe by @BenjaminMoore or Jacket by @Portalapaints
What is your favorite comfortable reading chair for a small space and budget? Living spaces have many beautiful and affordable options! Check out our #NJforLS collection, we love the Emily chair and the liv armchair.
What is your favorite countertop material and how do you take care of it? Right now I am obsessed with Honed Marble but Quartz and Neolith are great and easy to take care of.
Favorites and Advice
What advice do you have for LGBTQ+ youth going out into the world? Always bet on yourself. And know that you can build a community and family that surrounds you.
Who is your favorite singer? Currently so into @Kellyrowland, @maggierogers, @noahkahanmusic, and kingprincess69
What are your favorite personality traits of both of your children? Poppy Brent Berkus has formidable strength and Oskar Brent Berkus has nonnegotiable sweetness.
Why your blog is called O Atrio? I am Portuguese and would love to know! I am Portuguese decent! My blog ''O Atrio'' means The Atrium in Portuguese – and there's something special about an atrium that I completely. It's coveted space that is airy, light, and full of love. I want that to be reflected in the site.
Jeremiah Brent Instagram Revelations
So that was all the questions. In another question session in the past, Jeremiah also revealed the famous 'Nate and Jeremiah Wedding Story' to the fans. It's a story about how Nate proposed Jeremiah. This was also shared through the Jeremiah Brent Instagram live session. Now, Jeremiah reveals he may have more than one tattoos? We will find out later this week.  You can subscribe to our fan-made Nate and Jeremiah Instagram account for the latest updates.
Did you took part in the Q and A? If not, let us know in the comments section what would you ask him if you get a chance?