Reiko Caron gives Wall Hangings a new look — but this time without paint. Read how she layers rugs for a relaxed boho vibe. Bazaar Chic? … Or just bizarre? You decide!
Wall Hangings
Last time on our test wall, I went all out with a bold colored stripe that went from the wall all the way down onto the floor. Our viewers had their say, and they loved it. Today I want to change things up and try something other than a paint treatment.
Ideas to Display Rugs
The idea for this wall hangings is to display a collection, a collection of rugs. I thought an interesting way to display a collection of rugs would be to drape them over a rod. I knew I needed something sturdy to carry the weight of all the rugs. So I used a very thick wooden dowel. To hold up the rod, I needed something that was both strong and pretty.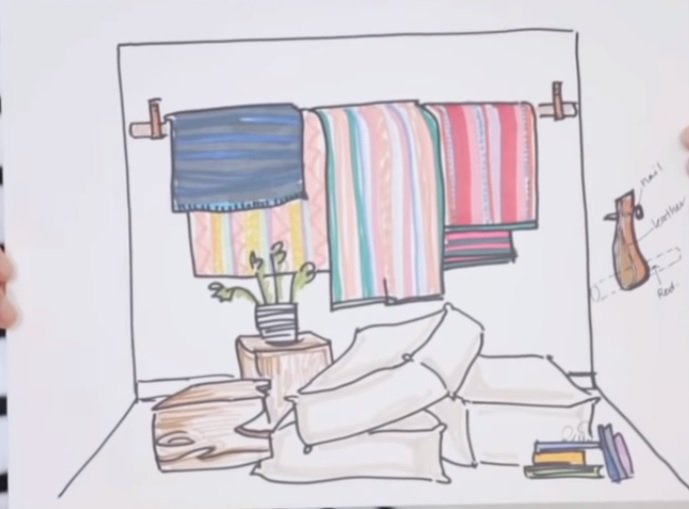 Just a Leather Belt
So I took an old leather belt and cut it into shorter lengths. I then fastened them securely to the wall hangings. I found four amazing rugs to have so much character and thought that mixing the patterns and colors and sizes will make for a really interesting look. It was easy to move the rugs along the dowel, to try different arrangements until I got a composition I liked.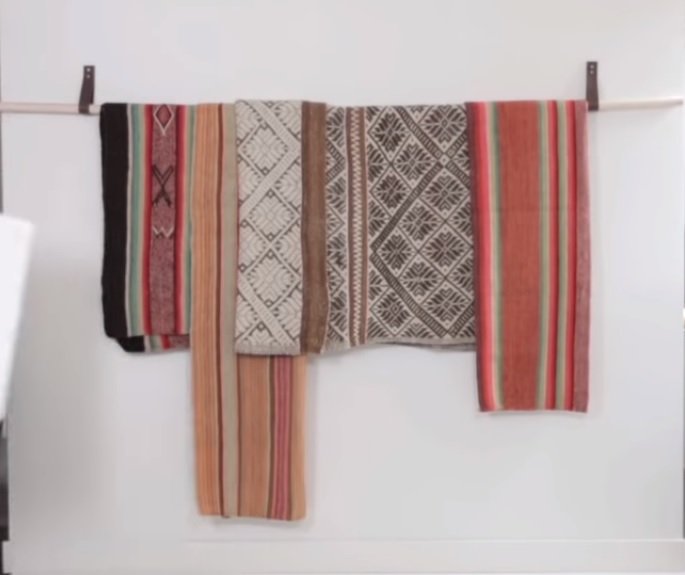 No Wrong or Right, Just Fun
There is no right or wrong way to do this you just have to have fun with it. I think it was important to keep everything else very quiet. What made it look really fresh is to have the white walls and the white floor similar to a gallery space. I then finished off the look with a few simple neutral pieces. Just like a piece of art, the rugs became a focal point.
The Final Look
How do you feel about layering rugs as wall hangings? Should they just be left on the floor? As always tell us what you think of this look on Facebook and Instagram. What do you think about the finished look?
Feedback
Join our Facebook Page and Group. This information is not associated with Nate Berkus nor Jeremiah Brent. Feel free to subscribe. Do tell us in the comments below?