Read how interiors director Meg Crossley did her garage makeover into a creative, decorated and multifunctional space. You won't believe how good it looks!
Garage Makeover
I've had my house for 13 years. The main reason I had to do something about the garage was that the roof was sagging. But beyond that, the mess that became the tipping point was, when I could only get one car in a two-car garage and just barely.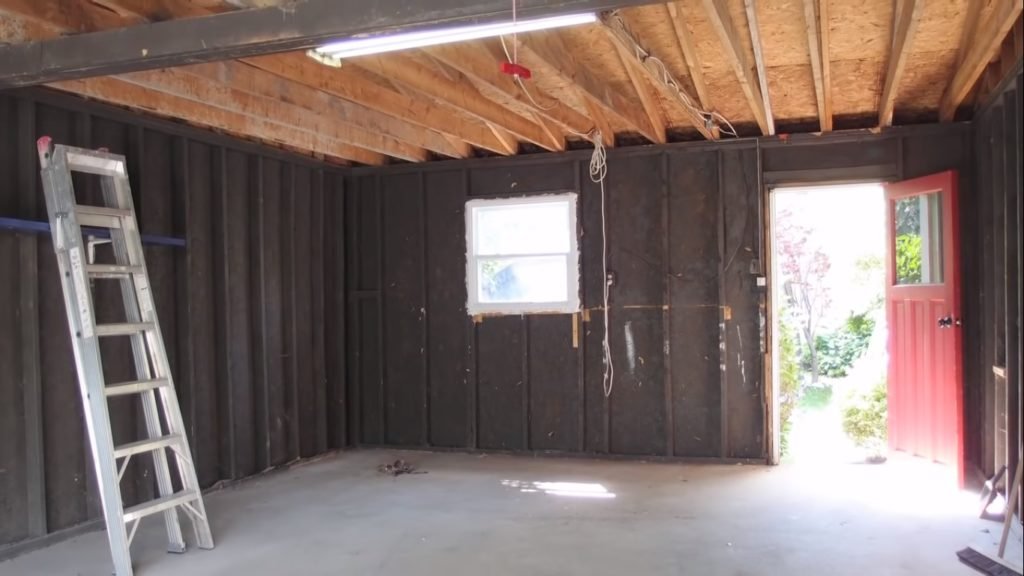 I would say the hardest part about the garage renovation for six months. My entire backyard was a portable garage tent. Everything was loaded in that. It ruins my backyard but you know I'm rallying it'll look good again after garage makeover.
Paint it Up
Once the garage was empty, you could see just how dark and dingy it was. So the first step was painting it all white. Top to bottom, several coats. Just so that it felt fresh. I realized I had to make it be attractive because I wanted to work in it for crafting, for little pop-up shops, cuz I do have an online store with one of my house and home colleagues. We've got cute stuff and we want it to be on display. So it had to look cute, this garage makeover had to almost look like a shop.
Storage
One of the biggest things was getting storage upstairs. Because once we replace the beam which had been the reason for the sagging roof, I could actually build loft storage. So was getting a pull-down ladder and figuring out a way to get boxes up there made a huge difference.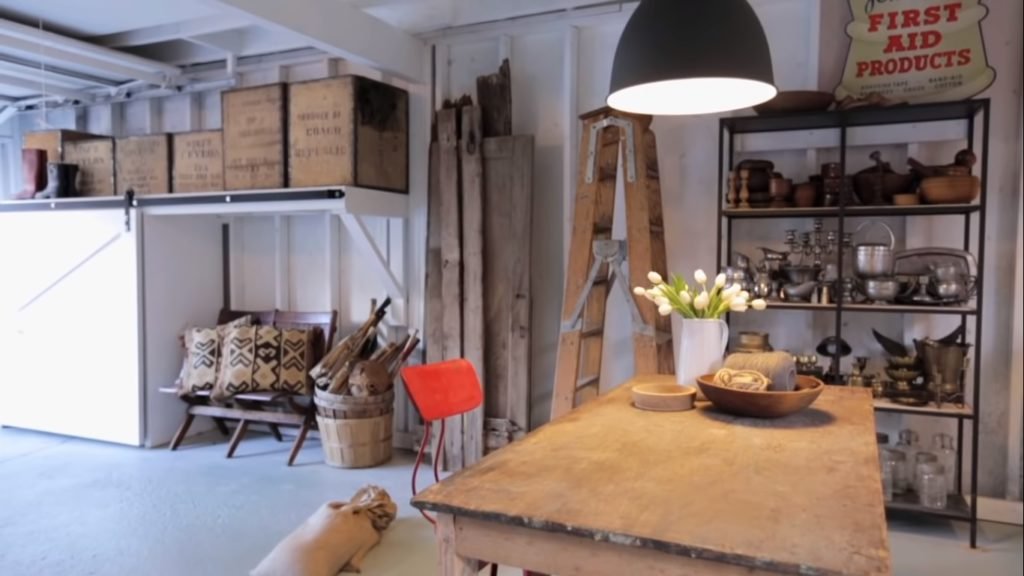 Garage Makeover to Living Space
I didn't go with the typical garage systems which all look very masculine and kind of NASCAR. I was just thinking, how can I make my garage attractive with different kinds of products, and also there's a little less pressure. Unlike your traditional interior design living room, if you make a couple of mistakes. Yeah, who cares. It's your garage, it still looks good.
Kitchen Cabinetry
Doing the front of the garage almost like a kitchen, with the IKEA kitchen cabinetry. It's completely filled and that means nothing is going down the side of the garage where I need to park the car. That work table, it was the only thing that was worth keeping in garage makeover. It's a perfect size for that space. Just having something kind of old and banged up, makes it not look so perfect. It gives it a little bit of soul a little bit of age so I like that.
Open Shelving
I'm going to actually use the tilt-shift drafting table as the potting shed. Because then that way I won't get any potting soil on my crafting table. The IKEA open shelving. Those are actually living room shelves because black metal and I could replace the glass shelves with wood shelves. Gives me a lot of easy storage solutions.
Last Frontier
With a multi-use space obviously, I couldn't lose recycling bins, garbage, all that kind of messy stuff. So my solution was that sliding barn door, it's all tucked behind you wouldn't even know it exists, looks attractive doesn't smell. Now garage makeover, it's done and it's organized and things are where they should be, just even pulling in at the end of the night is less stressful. So it's kind of my last frontier of organizing.
Feedback
Join our Facebook Page and Group. This information is not associated with Nate Berkus nor Jeremiah Brent. Feel free to subscribe. Do tell us in the comments below?